The Beaufort Bookstore and the nonprofit Pat Conroy Literary Center will host an evening with suspense novelist Kerry Peresta, author of The Torching (book 3 in the Olivia Callahan series), on Wednesday, July 19, at 5:00 p.m. at the Beaufort Bookstore—2127 Boundary St #15, Beaufort). This event is free and open to the public. Books will be available for sale and signing. Seating is limited; please call to reserve your spot: 843-525-1066.
About THE TORCHING
"Kerry Peresta has done it again, giving us Olivia Callahan, a complex heroine, who is strong, yet vulnerable, clear-headed one moment, lost in the terrifying fog of traumatic brain injury the next. In The Torching, we get to ride along as Olivia battles to rebuild, literally and figuratively, her life and her home, while her murky past continues to throw shadows over her present and future. Tightly written, this one's a heart-pounding page-turner from beginning to end."–Annette Dashofy, award-winning and USA Today bestselling author of the Zoe Cham
Three years ago, Olivia Callahan endured an assault that resulted in a devastating brain injury. She survived, but she couldn't remember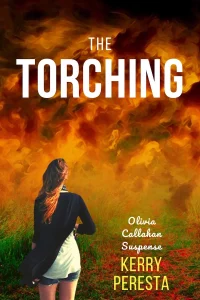 anything about her life or who she was. Now, she's determined to build a bridge between the past she lost and the life she must reclaim When Olivia crosses paths with Private Investigator Tom Stark, she is drawn to the investigative field, and becomes his intern. She finds a heavily redacted, forty-five-year-old file locked in his desk drawer that mentions her mother as a young woman. Why had her mentor hidden the file from her, and why had he never mentioned a case involving her mother?
As Olivia moves forward with her fledgling career, a string of mysterious fires moves through the community, puzzling the Baltimore Arson Investigative Unit. One of the fires strikes Olivia's beloved farmhouse in rural Maryland. Now, in addition to uncovering the secrets bound within the redacted file, she becomes convinced that the fires happening around the area are disturbing calling cards…and they're meant for her.
Kerry Peresta is the author of the Olivia Callahan Suspense series. Kerry spent thirty years in advertising as an account manager, creative director, copywriter, and editor. She began writing full-time in 2009 as a newspaper humor columnist. Her books feature strong, quirky, women who wrestle with personal choices that result in dangerous and often bizarre situations. She is a member of Sisters in Crime, Mystery Writers of America, South Carolina Writers Association, Island Writers Network, and a presenter for the Pat Conroy Literary Center. Kerry and her husband live in Hilton Head Island, South Carolina.
Learn more about the Pat Conroy Literary Center at www.patconroyliterarycenter.org.