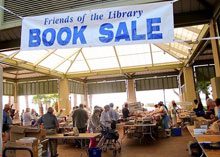 The Friends of the Beaufort Library: Beaufort, Lobeco and St. Helena Branches (FOL) will hold its Annual Fall Book Sale September 23-25, 2016 at the Henry C. Chambers Waterfront Park in downtown Beaufort.

The Friends of the Library members-only preview sale is from 10 am until noon on Friday, Sept. 23 with the sale opened to the public starting at 12 noon until 6 pm. Saturday, Sept. 24 hours are from 10 am until 6 pm. On Sunday, Sept. 25 hours are from 12 pm to 4 pm when all books and audio materials will be half-price.
Sale co-Chairs Kinsey and Kelly Baker report a "robust" selection of romance paperbacks for this year's sale with books priced at five for $1.00
"On Sunday, no offer will be refused for any remaining boxes of romance paperbacks," Kinsey said.
Also on Sunday, all books will be half priced. Books remaining at the end of the sale can be boxed up and available to interested non-profit organizations which contact sale volunteers in advance.
The Silent Auction will be conducted during the weekend, with bids accepted anytime between 10 am on Friday and 3 pm on Saturday, at which point bidding closes and successful bidders will be recognized.
The sale's rare and collectible books section will include more than 1,000 volumes, including many signed editions from the Myrtle Grove Plantation in Colleton County. The plantation was the home for many years of General Foods President, Austin Igleheart, and his son John D, a trophy-winning race car driver and sports car enthusiast. The collection includes books on sports, race cars and their drivers, 19th and early 20th century books by local authors, local histories of South Carolina plantations, vintage local cookery booklets and books on fishing and bird hunting, guns, gardening, landscape design and architecture.
The complete list of items in the silent auction is available at http:// FriendsOfTheBeaufortLibrary.com.  
This book sale is the main fundraiser for the FOL with all proceeds benefitting the Beaufort County Public Library branches in Beaufort, Lobeco and St. Helena Island. The FOL also maintain bookstores at each of the branch libraries where books and audio materials can be purchased during business hours.
The Friends also sell more unique books on eBay seller's site, ebay.com/usr/beaufortbooks .
Prior to the book sale, and at any time, book donations continue to be encouraged and accepted at all three library branches.
About The Friends of the Beaufort Library: The Friends of the Beaufort Library: Beaufort, Lobeco and St. Helena Branches (FOL) is a non-profit 501(c) (3) organization founded in 1979.  It is a volunteer organization providing financial support to northern Beaufort County libraries (Beaufort, Lobeco and St. Helena branches) with services to the community through additional funding of programs and projects that enhance learning, leisure and life. Events include the annual book sale and the Books Sandwiched In review series held in January. For more information, visit http://friendsofthebeaufortlibrary.com or contact FoL President Marilyn Harcharik at  marilyncharcharik@gmail.com