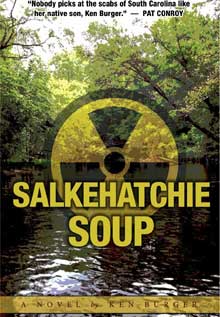 From Sweet Tea to Salkehatchie Soup, Ken Burger's got South Carolina's number.
Salkehatchie Soup, the much-awaited third novel in Ken Burger's trilogy of South Carolina stories, has just been released by Evening Post Books. And it doesn't disappoint.
As in Burger's previous tales (Swallow Savannah and Sister Santee), the cast of characters includes the powerful and the pitiful, both working through the options life presents them.
In his usual no-holds-barred style, Burger's tale of the Adger family continues from cushy golf resorts to a one-hole course in the middle of nowhere. Along the way, even small, seemingly private lives are caught up in the politics, crime, and intrigue of Miami, Manhattan, and Washington D.C. In Burger's mangy imagination, political bargains made in the cloakrooms of Congress impact both those who have fallen from Grace and those who urgently seek it.
In his first novel, Swallow Savannah, Burger wrote about the collision of the Cold War and Civil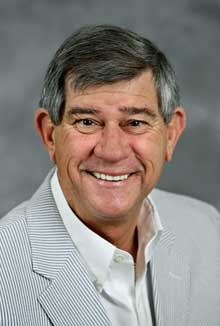 Rights in the area around the Savannah River Site where plutonium for atomic weapons was produced in the 1950s and '60s. In Sister Santee, he spun an all-too-believable yarn about the pine plantations and racial uneasiness in the 1970s and '80s. With Salkehatchie Soup, Burger returns to his birthplace to expose the remains of 50 years of nuclear waste buried in our beautiful state. More than a story about hidden waste – this is a book about life, love, golf and hidden secrets.
Ken Burger spent almost 40 years writing for two South Carolina newspapers, a career that included stints covering sports, business, politics and life in the Palmetto State. While writing sports for The Post and Courier in Charleston, Burger won numerous statewide writing awards and was named one of the nation's best sports columnists three times. He also was named S.C. Journalist of the Year in 1996. Burger topped off his journalism career by writing a popular metro column for the Charleston
paper before retiring in 2011. A compilation of his best columns, Baptized in Sweet Tea, won the Benjamin Franklin Award for Best Gift Book in 2011 from the Independent Book Publisher Association. A funny, poignant commemoration of southern identity and culture, this collection resonates with readers of all ages.
Ken Burger will be in Beaufort to talk about Salkehatchie Soup, "Sweet Tea" and plenty of other things on Wednesday, March 20th. The talk/book signing will take place from 1-3 pm at the downtown branch of the Beaufort County Library at 311 Scotts Street. For more information, call 255-6543.