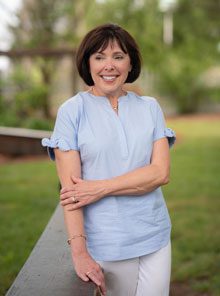 Susan Beckham Zurenda heads to Beaufort with her debut novel Bells for Eli
By Margaret Evans, Editor
I've known Susan Beckham Zurenda for a good long time. She's been popping in and out of Beaufort – and my editorial life – for years now, as a publicist with Magic Time Literary Publicity. I knew she had fantastic taste in books, a great work ethic, and a charming cocktail party personality. What I did not know – over all those years we worked together promoting novels – was that Susie was, herself, an award-winning short fiction writer and aspiring novelist.
           Considering she taught English for 33 years before becoming a book publicist, I should have guessed she had writerly aspirations of her own, not to mention some serious chops. But she never said so, and I never asked, so when her debut novel Bells for Eli showed up in my mailbox, not only was I surprised by its existence, I was blown away by its virtuosity. 
            The compelling story of two vividly-drawn cousins, Eli and Delia – growing up amid family secrets and shifting social mores in small town South Carolina in the 60s and 70s – Publisher's Weekly calls the book "insightful and assured," adding that "Zurenda's haunting coming-of-age story should appeal to fans of nuanced and atmospheric Southern fiction." Cassandra King Conroy calls the book "A stunning debut," saying, "Bells for Eli establishes Susan Beckham Zurenda as one of the most exciting new voices in Southern fiction."
            A resident of Spartanburg, Susie will be in Beaufort in late July, God willing and the Covid don't rise, to do a signing at McIntosh Books and give a talk at the Conroy Center. We recently chatted via email…
            ME: Susie, according to the PR, your novel is based on "a real-life first cousin's tragic childhood accident" in the late 1950s. How much of Eli's character and story are drawn from real life?
            SBZ: About 15-20 % of the plot is drawn from life and the remainder is imagination. Eli's accident in swallowing Red Devil Lye from a Coca-cola bottle propels the action of the novel; My cousin Danny experienced a similar accident that deeply affected the trajectory of his life.
            I did not grow up in the same state, much less the same town as my cousin. So not only is most of the plot imagined, Eli's personality is imagined as well. That said, my cousin Danny and I lived only an hour's distance from one another (after his family moved to Charlotte) when we were adolescents, and at that point we became good friends – though nothing like the intense relationship between Delia and Eli in the book. In high school, I introduced Danny to one of my close friends, and they dated for the better part of a year, and once in a while, he set me up on dates with his guy friends.
            ME: In Bells for Eli, you dared to approach the subject of "forbidden love" – two first cousins form a romantic attachment – and you did it with such tenderness and delicacy. How difficult was that to finesse and how have readers responded?
            SBZ: I didn't set out to write about romantic feelings developing between first cousins. In fact, I didn't know Delia and Eli's relationship was going in that direction until it happened. They have an unbreakable bond in childhood that advances into adolescence, each wanting to protect the other; it's something close to unconditional love. One night when they drive home after a dance and Eli parks the car to tell Delia a secret about himself and a girl he dated—believing the revelation might keep his beloved cousin from a similar fate—these cousins showed me their feelings. It was a natural evolution neither they nor I could escape. They led me, and I followed. 
            I did worry that some readers might not be receptive to Delia and Eli's intense love for one another, but I couldn't change it. To do so would have been false to the story and to who these characters are. I am thankful that so far, I have received only positive and sympathetic responses to Delia and Eli's relationship. In fact, a number of readers have told me they had crushes on their cousins when they were growing up. I love this! Before the novel was published, my husband asked me what I would say if anyone asked if I was in love with my real-life cousin, Danny. I told him I would have to say, of course, I was not, but that if the idea enticed someone to read Bells for Eli,that was fine with me! So far, no one has asked me that question. 
            ME: 'Bells for Eli' has everything I love in a Southern novel: a beautiful, evocative setting; complicated characters; family secrets; social issues; Gothic undertones; and lyrical prose that begs to be savored slowly, even as you can't turn pages fast enough. So I wonder: Who are your favorite southern writers – the one who've influenced you the most?
            SBZ: Where do I start? Tennessee Williams, William Faulkner, Peter Taylor, Robert Penn Warren, Pat Conroy, James Agee, James Dickey, Kaye Gibbons, Ralph Ellison, Ernest Gaines, Reynolds Price, Walker Percy, Harper Lee, Zora Neale Hurston—I taught works by all of these fine writers not just because they are Southern, but because of the tremendous impressions their stories create. They show us the truth: the good, the bad, and the ugly of who we are. But what started my love of Southern authors was an elective course I took in Southern Literature during the fall of my sophomore year in college. This class was an impetus that changed my direction from being a music major to an English major. In that incredible class, we read the works of four writers, all mid-20thCentury women: Flannery O'Connor, Eudora Welty, Carson McCullers, and Katherine Anne Porter. Those writers became tremendous influences. 
            ME: Describe the challenges of publishing your debut novel during the COVID-19 pandemic. It can't be easy.
            SBZ: "Challenge" is an understatement for all authors whose books coincided with the COVID-19 pandemic. I had 50+ events scheduled among eight states between March and Memorial Day. I was on tour for about a week and a half before everything shut down. I had book events in Litchfield Beach, SC, Chattanooga, TN, Southwest Florida, and Charlotte, NC, with crowds dwindling each day until everything halted after my hometown launch in Spartanburg, SC, on March 12. 
            Since then, like other authors caught in the pandemic, I have reached out to readers through social media, virtual events, and word of mouth. I've been fortunate. Readers who've discovered Bells for Eli have responded enthusiastically. 

Susan Beckham Zurenda will sign books at McIntosh Books, 917 Bay Street, Beaufort, on July 19 from 2-3:30 pm. On July 20, she will give a talk at the Pat Conroy Literary Center, 905 Port Republic Street, at 5:30 pm. Both events are free and open to the public. For more information visit www.patconroyliterarycenter.org