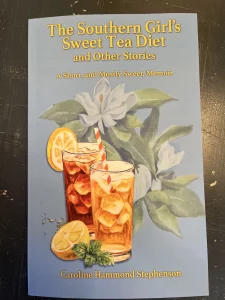 South Carolina author, Caroline Stephenson, loves all things Southern, especially the passionate ways Southern families love each other and their region of the country. "My mother thought South Carolina was the cradle of western civilization, from the Upcountry mountains, Clemson's Death Valley, the moss-draped Lowcountry to the dunes of Pawley's Island. Her family never left this great state for she knew all the best family, husbands, friends and dogs reside here. I have to say she was right!"  
The Southern Girl's Sweet Tea Diet, Stephenson's memoir, is a collection of humorous, true tales of life growing up in a family dominated by a charming, but volatile matriarch. It will tickle your funny bone. "When asked why I wrote the book, my answer is I love to read and the more I read, the more I knew my real-life experiences are as entertaining as most fiction – they just had to be shared." In this collection of personal stories, the author tackled subjects deemed taboo in polite society – politics, sex, weight and more – and does so in an unexpected, poignant and hilarious way.
"It's really hard to say which story is my favorite, kind of like choosing your favorite child, but one that I really love is the one about summer spent on the South Carolina coast."
Born and raised in Greenville, SC, this Clemson graduate wrote most of the book during her summers at Litchfield Beach. Her English degree, a career in public relations and her lifelong fascination with the written word contributed to the engaging, entertaining grace of this page-turner, as sweet and tart as a cold glass of iced tea on a hot summer's day.
This perfect Mother's Day gift, The Southern Girl's Sweet Tea Diet, is available on Amazon for $15. (Published by Ingram Content Group; ISBN 9-781088-067345; distributed by Ingram Publishing)