Followers of Cassandra King's books know that her characters fast become people you know or have met. You find yourself waiting to talk to them as they enter your room, an urge to counsel them when tragedy strikes, to offer a forgiving hand when one has transgressed. In other words, King breathes life into her characters. In Moonrise, be aware that you might even catch the wavering figure of the ghost of Rosalyn, recently deceased owner of the Blue Ridge Mountain Victorian showplace, Moonrise.
On Wednesday, July 31, King will share the background stories of this enchanting mystery novel at the Sea Pines Country Club, Hilton Head at noon as part of the USCB Lunch With Author Summer Series.
Famous for its beguiling nocturnal garden that glows when the moon is full, Moonrise is now the final resting place of its beautiful and accomplished owner, Rosalyn, victim of a tragic accident less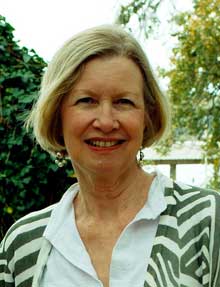 than a year ago. All around the estate, her closest friends gather for the summer as usual, mourning her loss and looking to comfort her widower, Emmet. 

But when Emmet arrives for the summer, he doesn't come alone. His new bride, Helen, is eager to see Moonrise and to join the world that means so much to her charismatic TV journalist husband. Like the heroine of Daphne DuMaurier's classic romance, Rebecca, Helen becomes obsessed by her predecessor, who lives on in her house and gardens and the hearts of those who loved her. Not only does Helen fail to measure up to the beautiful and accomplished Rosalyn, she doesn't fit into her world, either, an elite enclave of well-to-do summer people. Even the gardens exclude her, since their secrets, passed down by generations of gardeners, died out with Rosalyn. When it becomes clear that someone in Rosalyn's close-knit circle of friends is determined to drive her away, Helen wonders if she can trust anyone, even her husband. As the sweltering summer draws to an end, Helen struggles to uncover the secrets of the past in order to establish her own identity apart from the woman she replaced.
Other novels from King are Queen of Broken Hearts, The Same Sweet Girls and The Sunday Wife. Reservations for Lunch With Cassandra King are made at 843-521-4147 or kingsley@uscb.edu. All-inclusive price (lunch, talk, Q&A and book signing) is $42.