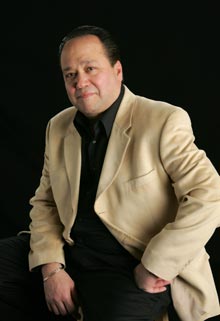 Come enjoy Happy Hour with the "Don," Saturday, April 14th, from 6 to 8 pm. Don De Luca is the protagonist of Guy J Tirondola's debut novel, THE ACCIDENTAL DON: A Man Caught Between Two Identities. Guy's grandfather, Joe Malizia, inspired the creation of Don De Luca. "Papa Joe" owned the legendary Joe's Spaghetti House, which occupied the same building that currently houses the Port Royal Pasta Company, and is the setting for the novel.
Holding the book-launch party in the space where the story unfolds is a stroke of good fortune. When Guy last saw the building in June of 2011, it was vacant and for sale. He was in town attending the Short Story America Anthology book launch, and on the occasion of winning the Beaufort Tricentennial Short Story Contest. (Lowcountry Weekly published his winning story, Israel's Pig.) Two months later, Guy got word that a new restaurant had taken possession. He contacted the owner, Steve Leverton, who was very receptive to the idea of hosting the book-launch party. Steve and Guy share an affection for historic Beaufort. Steve had heard locals recount fond memories of Papa Joe and his Spaghetti House, and he wanted to learn more about this adventurous man who left Newark, NJ in 1950 to open an Italian restaurant in the sleepy backwater village of Beaufort.
Joe's life planted the seeds that blossomed into the novels premise: Locals in a small southern coastal village come to fear Don De Luca, the stranger who has settled among them, whom they wrongly surmise to be a mafia don. Don, a bar owner from Newark, on the run, falsely accused of stealing money from the mob, uses his new-found "evil" identity as a force for good, combating hatred, bigotry, superstition, and finally confronting the mob boss who has arrived to kill him. Don's journey reveals that some men are born wicked, some men achieve wickedness, and some men have wickedness thrust upon them.
This debut book-launch event begins a new chapter in Guy's life, in the very spot where a new chapter began in his grandfather's life over 60 years ago. Please stop by to meet the author and have your book signed. A special menu, discounted for book buyers, will be offered that evening.
The "Don" will be accompanied by Tim Johnston, author, editor of Short Story America. Tim will be selling the Short Story America Anthology. Both books are available on Amazon.com.
Port Royal Pasta Company is located at 1430 Ribaut Rd.
You'll probably be spending the morning of April 14th with your tax accountant. Come and decompress with friends, a drink, and the "Don."