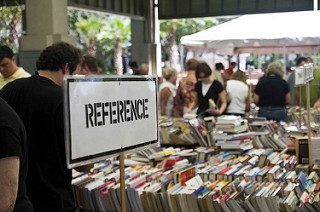 This year's Friends of the Beaufort Library Fall Book Sale will be held Friday, September 25th through Sunday, September 27th at the Henry C. Chambers Waterfront Park in downtown Beaufort. The Book Sale is the main fundraising event held by the Beaufort Friends, with all proceeds benefitting the Beaufort County Library System branches in Beaufort, Lobeco and St. Helena. All proceeds from this sale go back into the branch libraries to support programming and materials.
On Friday, September 25th, a private 2-hour sale for all members of the Friends will be held from 10:00am-Noon. Those who are interested in becoming a member can sign up any time before or during the presale at the membership table to gain access to the presale.
The sale will open to the general public on Friday, September 25th from 12:00pm-6:00pm, and will reopen on Saturday from 10:00am-6:00pm. The book sale will reopen from 12:00pm-4:00pm on Sunday, during which time ALL books and audio-visual items will be half-price, including the Rare and Collectible books.
Most books are priced at $2.00 for Hardbacks, $1.50 for large "Trade" Paperbacks, and 50 cents for "pocket" paperbacks. Children's books and audio-visual materials are also individually priced at ten cents and up. Included in this years' sale will be over 100 original editions of Tom Swift & Tom Swift Jr. books coming from one donor, along with numerous golf books from the library of a past Friends board member. Browsers will notice the addition of a few new categories at this years' sale, and books will be added regularly throughout the sale. 
The popular Silent Auction will again be conducted during the sale, with bids accepted anytime between 10:00am on Friday and 4:00pm on Saturday, when bidding closes and all successful bidders present will be able to pay for lots they won.
Some of the highlights of this years' Silent Auction will be:
·         6-volume 1900 Edition of the Complete Works of Elizabeth Barrett Browning, limited to 1000 numbered, leather-bound sets.
·         7 Early Stephen King novels including his first 3 books, all fine in dust jackets
·         15 leather-bound volumes from the LIBRARY OF SOUTHERN LITERATURE
·         Several autographed books by Pat Conroy
·         1968 Deluxe Edition of ALICE IN WONDERLAND in slipcase, Illustrated by Peter Newell
·         1915 First American Edition of A SET OF SIX, by Joseph Conrad
·         1927 10-volume set of THE PRINCIPAL NAVIGATIONS, VOYAGES, TRAFFIQUES & DISCOVERIES OF THE ENGLISH NATION, by Richard Hakluyt
·         Coffee-Table book of AVIATION ART OF WORLD WAR II, by Stillwell
·         LOWCOUNTRY, paintings by Ray Ellis.
·         OTHER PLACES, a signed copy of Charleston Artist Elizabeth O'Neill Verner's etchings & pencil drawings
·         THE COMPLETE NATIONAL GEOGRAPHIC, 110 Years (1888-1990'S) of National Geographic Magazine on CD-ROM, in a natural wood case with hinged lid.
·         Signed copy of Jimmie Buffet's MARGARITAVILLE
Don't forget that the Friends of the Beaufort Library bookstore is open year-round at the Beaufort Branch Library during library hours, with fresh stock being added regularly. Donations of books, CDs and DVDs are needed more than ever, especially with the recent expansion of the FOL Book Store and its increased activity. Non-Profit organizations interested in removing any unsold books after 4:00pm on Sunday, contact Kinsey Baker at 843-838-0812 or kbakerbooks@centurylink.net