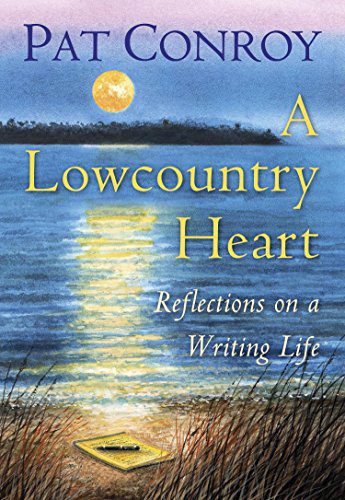 In October 2015, more than a thousand people participated in the Pat Conroy at 70 Festival celebrating a milestone birthday and honoring the iconic southern writer in his hometown of Beaufort, South Carolina. The event was a once-in-a-lifetime gift to the community and to the author himself, who passed away from pancreatic cancer just months later. The immersive festival model of author discussions, a film screening, a museum exhibition, a tour, and special lunch and reception events proved to be so successful that the organizers are continuing it as an annual event honoring Conroy and now called the Pat Conroy Literary Festival.
Under the leadership of Jonathan Haupt, director of the University of South Carolina Press and Conroy's partner in the Story River Books fiction imprint, and in partnership with USCB professor of English and author Ellen Malphrus and Bonnie Hargrove, director of the USCB Center for the Arts, the inaugural Conroy Literary Festival will be held October 20 to 23. Details and the festival's expansive lists of events, presenters, partners, and sponsors can now be found at www.patconroyfestival.com.
"Each year the festival will highlight a different theme from Pat Conroy's writing life," Haupt explained. "The 2016 festival theme is 'Place as Character and Muse in Southern Literature.' It's a welcoming concept reflected in all of this year's programs, and it is also a chance to honor our host city of Beaufort and the iconic Carolina Lowcountry which served as Pat's beloved home and inspiration."
Extending the remarkable conversations and experiences that began at the Pat Conroy at 70 festival, the new literary festival will include appearances by more than forty writers and performers in a series of conversations and special events tied to Conroy's legacy and to the theme of place. The presenters include best-selling southern writers Ron Rash, Dorothea Benton Frank, Mary Alice Monroe, and Jill McCorkle; cookbook writers Nathalie Dupree and Sallie Ann Robinson; a pantheon of Conroy's Story River Books authors including Katherine Clark, Elizabeth Cox, Carla Damron, Ellen Malphrus, Ray McManus, Michele Moore, Mark Powell, Bernie Schein, Maggie Schein, and John Warley; Lowcountry superstars and local favorites Josephine Humphreys, Marjory Wentworth, Nicole Seitz, Roger Pinckney, Larry Rowland, Margaret Shinn Evans, and James McTeer II; and many, many more.
A series of festival programs will highlight the work of Ron Rash, whom Conroy called one of the finest novelists writing today, including a performance of Barbara Bates Smith's one-woman show "A Rash of Stories;" a screening of the feature film The World Made Straight and the comic short "Yard of the Month;" an interview with the author; and a discussion by four accomplished literary scholars. In addition to Smith's "Rash of Stories," the festival will feature a second live performance, "Sounds of the Cigar Factory," adapted from Michele Moore's Story River Books novel The Cigar Factory, directed by Jeff Evans, and starring Ron Daise alongside and all-local cast. The dramatic reading has previously been performed at the Piccolo Spoleto festival and in Charleston's Eastside neighborhood in the shadow of the factory itself.
A series of four writers workshops have been added this year, featuring classes on craft, inspiration, and professionalization for writers of any level of experience. The festival will include a special lunch event each day, with pairings of best-selling writers in conversation on Thursday, Friday, and Sunday, and on Saturday a video screening of the incredible Conroy family panel from the Conroy at 70 festival. A trio of tour options will give festival attendees the opportunity to see Daufuskie Island with Conroy's former student Sallie Ann Robinson or to see sites associated with the writer in Beaufort as guided by his best friend Bernie Schein and Bernie's daughter Maggie. In addition, photographer Rob McDonald's exhibition "Carolina Writers at Home" will be on display at the USCB Center for the Arts throughout the festival, featuring images of many of the presenters, including Jill McCorkle, Josephine Humphreys, Roger Pinckney, and Cassandra King with Pat Conroy.
The true highlight of the inaugural Conroy Literary Festival experience may well be Saturday evening's closing event, the launch of A Lowcountry Heart: Reflections on a Writing Life, the new collection of nonfiction pieces by Conroy himself to be presented at the festival by Cassandra King in conversation with Ellen Malphrus. Their discussion will also include an update on plans for the new Pat Conroy Literary Center in Beaufort.  
"What an absolute honor is it for the Conroy Literary Festival to be able to share Pat's new book with his friends and fans before it's available anywhere else," Haupt said. "Pat's family, agent, and publisher all agreed that A Lowcountry Heart needed to be a part of this celebration of Pat's literary legacy and his home here in Beaufort, and we're so fortunate to be able to have the book before its official release." The publication date for A Lowcountry Heart is October 25, the Tuesday following the festival and the day before what would have been Conroy's seventy-first birthday.
The Pat Conroy Literary Festival is a collaboration between the University of South Carolina Press and the USCB Center for the Arts, with additional organizational support from the Beaufort Arts Council, Beaufort Film Society, Historic Beaufort Foundation, Pat Conroy Literary Center, USC Libraries, and USC Beaufort. Generous sponsorship and in-kind support is provided by Anchorage 1770, Beaufort Holiday Inn & Suites, City Loft Hotel, the Cuthbert House Inn, Patricia Denkler, Erica and John Dickerson, Friends of USC Press, Susan and Scott Graber, Annie Griffey, Leslie Hendrix, Magnolia Court Guest Suites, South Carolina Humanities, USC Libraries, and Tumlin Levin Sumner Wealth Management of Raymond James.
For additional details, including schedule and ticket information, visit www.patconroyfestival.com or follow the festival on Facebook at www.facebook.com/PatConroyFestival.