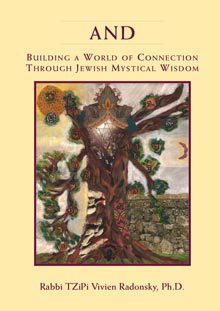 Herban Marketplace to host wellness book club starting March 15
Herban Marketplace, Beaufort County's premier all organic and all-natural grocery will host the FREE Eat Well. Live Well. Stay Well. Book Club starting Saturday, March 15 at 10 am. The club will meet at Artizen Yoga (1211 Newcastle Street, #2F just upstairs from Herban).
This inaugural meeting of the Book Club will focus on the book, And, Building A World Connection Through Jewish Mystical Wisdom by Rabbi TZiPi Radonsky. This book is available for sale at Herban Marketplace, and online at Amazon.com and Lulu.com. Radonsky will lead book club discussions, and this first meeting will help define the topics, direction and books for the monthly club. Herban Marketplace will also provide refreshments.
Sign up to attend the book club at Herban Marketplace (1211 Newcastle Street, Beaufort – behind Talbots) or call us at 843-379-5550. Limited seating.
About TZiPi Radonsky: TZiPi Radonsky is a life-long learner, traveling rabbi-teacher coach, artist and
woman of the world. Her primary Kavannah-intention is to heal the world one heart at a time, starting with herself. This happens through her professional relationships as mentor-coach in her private coaching and leadership development training practice at Watering the Tree Outside the Fence as well as an associate at the Center for Creative Leadership where she began coaching and has been inspired for more than 20 years.
Randonsky received a Bachelor of Science in Occupational Therapy from the Medical College of Georgia, a Master of Health Science in Occupational Therapy from the University of Florida and a doctorate in Counselor Education from the University of North Carolina at Greensboro. In the summer of 2005 she became an ordained rabbi through a private Smicha and brings her whole self into each encounter. She is the mother of two daughters and grandmother of four. She lives in Port Royal, South Carolina.
Herban Marketplace is Beaufort's premier all organic and all-natural grocery store. Herban Marketplace is focused on providing the best quality organic shopping experience with the goal of assisting its customers along their path to good health. Herban Marketplace welcomes those with special dietary needs and strives to offer its customers many alternatives to suit their lifestyle whether vegetarian, vegan, wheat and gluten-free, organic, raw, or gourmet. www.herbanmarketplace.com