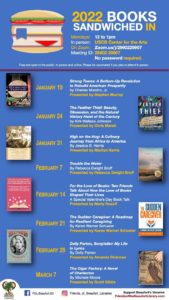 The Friends of the Beaufort Library are back with their popular series Books Sandwiched In, which started Monday, January 10, and will continue every Monday through March 7.. Each program is held in person in the USCB Center for the Arts theatre from 12:00 noon to 1 pm. In addition, all sessions are available live via video conference. The programs are free and are a service provided by the Friends of the Beaufort Library.
"To save the program last year, we had to get creative," explained BSI Co-Chair Karen Warner Schueler. "Just like everyone else, we learned all about Zoom and we were able to present our entire 2021 roster of presenters virtually to anyone who wished to log in. The online access has really expanded our reach and enabled us to bring these entertaining presentations to a much wider audience anywhere in the country, the world even."
The BSI program kicked off with Mayor Stephen Murray presenting "Strong Towns: A Bottom-Up Revolution to Rebuild American Prosperity," by Charles Marohn, Jr. "In its 35th year, Books Sandwiched In has become a highly anticipated, greatly appreciated event here in Beaufort. We have so much local talent to showcase in the presenters, and over the years we have also heard from many of Beaufort's own authors. I (was) honored to kick off the 2022 season," said Mayor Murray.
The entire schedule of presenters and their featured books can be found here: https://friendsofthebeaufortlibrary.com/books-sandwiched-in/
To access any of the seven remaining programs online at 12 noon each Monday with Zoom: Zoom.us/j/2990229907. As it was last year, the meeting ID is 29902 29907. No password will be required this year.
About Friends of the Beaufort Library
The Friends of the Beaufort Library (Friends) is an all-volunteer, non-profit 501(c) (3) organization founded in 1979 to provide financial support to the Beaufort, Lobeco and St. Helena branches of the Beaufort County Library. Events include the Annual Fall Book Sale and the popular Books Sandwiched In series. For more information, visit our website:   FriendsOfTheBeaufortLibrary.com Also, learn more about FOL's programs and activities on Facebook at "Friends of the Library—Beaufort, St. Helena, and Lobeco, SC" and Instagram at friends_of_beaufort_libraries