This weekend, October 16 – 19, the Friends of Hunting Island celebrate the 150th anniversary of the Hunting Island Lighthouse.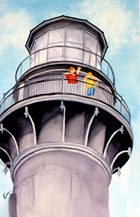 In support of this historical event, the Beaufort Art Association is hosting an art exhibition that features work inspired by the beautiful and dramatic setting of Hunting Island and the lighthouse.
The Hunting Island Lighthouse has been the muse of many of the artists in the Beaufort Art Association for years. Yet to create new work for the exhibit, about fifty of the members gathered at Hunting Island State Park back in June of this year for a day of art, socializing and contemplation. Many people sat quietly in the shade and sketched or painted. Photographers went on hikes to find one or more perfect shots. Others climbed the lighthouse to seek the inspiration of heights. The park is addictive (you can't just make one visit) and so individuals have returned to the site numerous times since June to complete their work.
Regular Beaufort Art Association Gallery Members installed the first Hunting Lighthouse work from these endeavors in an exhibit that began on September 14. This portion of the art show will be on display through October 24. The exhibit will expand dramatically on October 16 when all Beaufort Art Association Members are invited to hang their Hunting Island artwork in the gallery. Many media will be represented including watercolor, pastel, oil, acrylic, drawing, photography, mixed media and sculpture.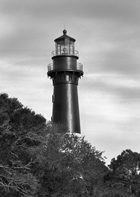 An opening reception will be held on Friday, October 16 from 5:30 – 8 pm to welcome the Friends of Hunting Island and help visitors from across the country and around the world celebrate the 150th anniversary of the lighthouse. The reception will be held at the Beaufort Art Association Gallery at 1001 Bay Street in the historic Elliott House.