Four Local artists will exhibit at the famed festival in Charleston
Four Beaufort County visual artists will have their place in the sun for the 31st Piccolo Spoleto Outdoor Art Exhibit. Sandra Baggette, Kathy Crowther, Diane Dean, and Deanna Bowdish will exhibit at the Frances Marion Square in Charleston, SC., May 28th through June 12, from 10am till 5pm everyday, rain or shine. This showcase was created for South Carolina artists and is great way to meet over 90 artists and see their newest works. There is a festive atmosphere with two demonstrations by different artists each day. Also, throughout the week there are concerts and excerpts from other Piccolo Spoleto events.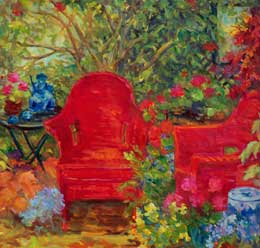 Sandra Baggette is taking a "Paint what I love and love what I paint" approach to her latest series of paintings, Red Wicker Chairs. When she recently found these eye-catching chairs, she knew they would be the perfect addition to her gardens and a creative spark for a new series. Her latest treasures have now been arranged throughout her gardens to create a vibrant interest among an abundance of azaleas, wisteria and spring greens.  By photographing her process, Sandra will be able to show how she creates paintings and explain her delight in using an abundance of colors.
The coastal marshlands and their inhabitants have provided boundless inspiration for Kathy Crowther's new body of work that reflects her love of nature.  Her style is unique, with an emphasis on design, color, and detail.  For her, painting is the art of observation and discovery. www.kathycrowtherllc.com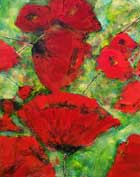 Award winning artist Diane Dean's work is representational abstract and incorporates the colors and textures of nature.  Each work is based on her personal interaction with the world around her.  Diane works in Mixed media, including encaustic (beeswax) on highly sculpted surfaces.  www.dianesdean.com
Deanna Bowdish's work focuses on the sparing essentials of color, shape and texture.  She creates bold tactile surfaces dragging color in

progressive, deliberate layers with a wide range of created and found tools.  Deanna pursues vibrancy in her art by playing on the struggle between structure and chaos.   In her newest series, Ms. Bowdish is concentrating on "reconstructed deconstructions" where she creates large works on watercolor paper and canvas which are then cut down and either woven or stitched back together ,creating an entirely new painting.  The weavings are then coated with resin and can be applied to functional surfaces such as tables, countertops and backsplashes.