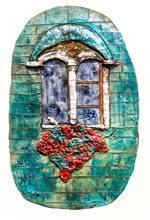 From April 29 through June 29, the Beaufort Art Association will feature the hand-built stoneware of Susan Ellzey and the palette-knife oil paintings of Tommie Toner. An opening reception will be held in honor of the artists on Friday, May 3 from 5-8 pm at the BAA Gallery located at 913 Bay Street. The public is cordially invited. 
The two artists share not only a love of the low country but also an enthusiasm for travel—its discovery and insights—which are reflected in their works. Susan and Tommie, both graduates of Florida State University who married Georgia Tech graduates, are retired college professors who have been friends since they first met at the BAA gallery.   
Susan Ellzey's unique fish, shells, and boats are central to her vision of the low country; her figurative sculptures and masks are evocative of another realm. She began working with clay in 1996 when she retired. The world of clay continues to be one of exploration, experimentation,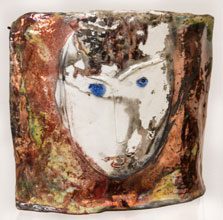 and discovery for her.  She says, "working with clay, hand building and raku firing is an extraordinary and exciting experience. Although clay is a forgiving medium, it does make demands – often the final form is not the one I planned, but the one I see in the clay." 
All of Susan's work is hand built; most of it is raku fired—a method of rapid firing, taking the work out of the kiln with tongs, putting it in combustible material, and then dousing it with water to stop reduction. This element of vulnerability is sometimes reflected in the faces of the raku sculptures, which emerge whole and arresting from the at-risk raku firing (the fire, smoke, and water immersion). "There is almost primal joy in working with clay – the water and fire – and I hope you can see that love and joy in my sculptures." Susan's background in literature and her extensive travel enable her to recognize the figures that emerge from the clay. "Not always," she admits, "but I sense there is a back story or a narrative. The two people on Last Dance have a story to tell."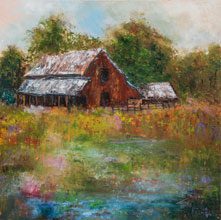 Tommie Toner's work projects memorable images of brilliant sunsets, ever-changing seashores, living marshes, and faraway places. When asked about her method of painting, Tommie explains, "I feel like I am always learning and evolving as an artist. The palette knife is my favorite tool – using a palette knife is like icing a cake. I love the texture that I get with a knife as I apply layer upon layer of color, often scraping and then, adding more layers, wet into wet – leaving a finish that urges touching by the viewer." Asked about drying with so much paint on the canvas, Tommie replied, "Yes, the caveat of building a lot of texture is that it requires a lot of time to dry before varnishing. To promote faster drying, a tiny drop of alkyd medium can be added to each pile of paint and I always use white alkyd paint."
The marsh is Tommie's favorite subject matter. She says, "The marsh holds much mystique. It is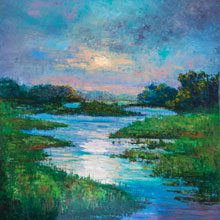 always changing just like the sea, but it is quieter and more subtle in its beauty. I live on the marsh so I observe it closely. Its colors change not only with the seasons but also with the atmosphere and myriad colors of the South Carolina sky. The textures found in the pluff mud, sea grass, creeks, and living creatures touch my heart and yield to the impressionistic strokes of the palette knife."
"Moonlight is sculpture; sunlight is painting." Nathaniel Hawthorne's 1838 observation does not apply to the work of Susan Ellzey and Tommie Toner. Susan's raku sculptures emit sunlight; moonlight pervades Tommie's paintings. Both artists capture and depict the transformative moments and experiences that all of us have in the presence of nature. Rosalyn Dexter in Chinese Whispers, observes, "Art has the ability to transcend us beyond the ordinary." The work in this show definitely transcends the ordinary. 
This is Susan Ellzey's fourth show as BAA's featured artist. Susan, who was a English professor and college administrator, has a PhD in English with a major in Renaissance literature. Tommie Toner was a professor and administrator in the College of Education, USC – Columbia, SC. She has an Ed.D. in Curriculum and Instruction with a major in Adult Learning. This is Tommie's second time as featured artist for the BAA.