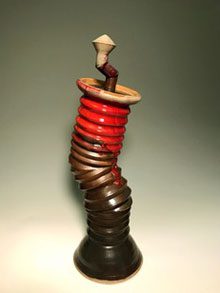 Area artists Wayne Chambers and Daniel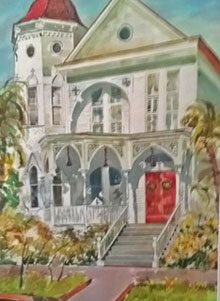 McSweeney will be featured at the Beaufort Art Association (BAA) starting January 8 and running through February 26, 2017. The theme of their exhibit will be "Water & Earth" highlighting Chambers' watercolor technique and McSweeney's pottery techniques. An opening reception will be held at the Gallery at 913 Bay Street in Beaufort on Friday, January 13, from 5 to 7:30 pm. Light refreshments will be served. There will also be on exhibit the work of 65 other local artists, who are members of the Gallery. The public is invited.
     A native of Crewe, VA, Chambers spent much of his life in Richmond, VA, working for Phillip Morris USA. He says he was so impressed with Richmond, he started painting its cityscapes and skyline views.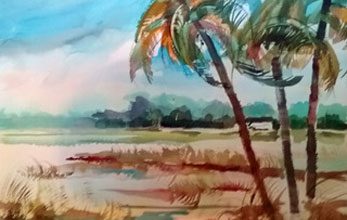 "I had a one-man show at the Ross Building in downtown Richmond in the early 80's," he says. "The Retail Merchants' Association bought my entire show!"
     Following that, he became a Resident Artist for the Association, documenting historical Richmond through his paintings. He did that for fifteen years. Then, in 2000, he visited Savannah on a 3-week vacation, and painted many of its historic buildings. He painted the famous Mercer House, and landed a contract with the owners. Subsequently, he moved to the Savannah area, where he says, "Everywhere I look, there is a painting!"
     Daniel McSweeney grew up playing in the riverbeds behind his house in rural Virginia, where his love of clay began. As he played, he noticed the different prop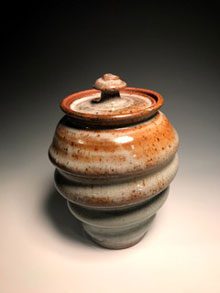 erties between plain dirt and thick, malleable clay. In high school in Columbia, SC, he learned how clay, combined with heat and fire, makes "something everlasting." From there, he went to Kansas City Art Institute to formalize his skills. He returned to South Carolina to make pottery and clay sculpture his own way, mixing his own clay and glazes, and even digging clay from local riverbeds for some of his work. He uses porcelain and stoneware clay bodies, and his reduction process allows for richer glazes and variations in the same glaze. He has exhibited his work in the Midwest and throughout the Southeast.
     He also is a talented pottery instructor, having worked with children and adult students at his own galleries, The Art Garage in Columbia, and Spark Studios and Gallery in Charleston. He has also been a working instructor at the Kansas City Clay Guild, Columbia Parks and Recreation, Blythewood Parks and Recreation, and the Artists' Loft School in Mount Pleasant, SC. Currently, his studio is in downtown Beaufort, where he holds classes and continues to share his love of clay with his students.
     Chartered in 1957, the Beaufort Art Association is a tax-exempt membership organization. Currently, there are around 175 local artists who are members, 65 of whom exhibit in the Gallery. To find out more, call (843) 521-4444, or go to our website at www.beaufortartassociation.com.