Linda Sheppard at the Art League Gallery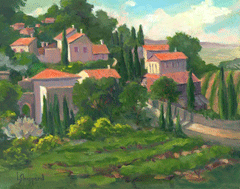 The Art League of Hilton Head Gallery presents Surrender to Nature by Linda Sheppard opening with an artist reception in the Pineland Station Atrium on Tuesday, February 9, 2010.  The exhibit runs through Saturday, March 7th.  The public is cordially invited. Call 843-681-5060 for details.
Linda Sheppard is an experienced professional artist who exhibits in some of the nation's most prestigious venues, including the Pastel Society of America, the American Artists Professional League, the National Academy of Design and the Connecticut Pastel Society.  She is interested in capturing the essence of her subjects through the effects created by light, color and shape.  Her luminous paintings include landscapes, still life, portrait and figures.
Her most recent endeavor has been a plein air painting trip to Provence, France. Sheppard cherished the experience to be able to paint in utter solitude for hours at a time with no human sounds, cars, cell phones, or chaos on the television.  "The quiet helped me center down and really look.  The light was magnificent," she raves.  "The more I looked, letting go of my fears and frustrations, the more I saw.  I felt like I was standing in God's Temple of Creation.  It was a beautiful experience and one that I know will affect my painting."
The result is her series of vineyard paintings of the French countryside.  Sheppard says, "As an artist I need to sense, deep in my soul, the essence of the beauty of a place.  Considering a landscape, there has to be a conscious understanding of what I am attempting to say about the place. I need to ask myself questions to find out what is touching me, so I need to focus on.  When I do that, I hope my viewers will see something deeper in life, a greater appreciation for the varied beauty, or sense peace and quiet as they view my landscape paintings."
Sheppard has studied portrait and figure painting at the National Academy, the Art Students League, the Pastel Society of America Workshops, and with Daniel Greene and Michael Shane Neal.  She teaches portrait drawing and painting using "Old Master Techniques" as well as painting workshops and classes in oil and pastel.  She is a signature member of the Connecticut Pastel Society and recently awarded "fellow" status at the American Artists Professional League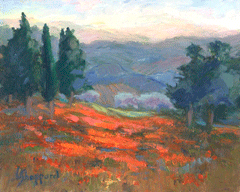 She has held over 25 solo shows in galleries in Denver, California, Minnesota, New York, Vermont, Connecticut, and South Carolina.  Her work hangs in public and private collections throughout the United States.
This exhibit includes work by other Art League artists and should not be missed! The Art League of Hilton Head is a not-for-profit membership organization dedicated to promoting and supporting the visual arts. It operates a Gallery for the display and sale of artwork by its members.  The Gallery is open Monday-Saturday, 10:00 a.m. till 6:00 p.m.  For more information call 843-681-5060 or check www.artleaguehhi.org