New Work by Beth Brya at the Charles Street Gallery
Beth Brya will show us the marsh through her eyes at the Charles Street Gallery, February 12 through March 6. The public is invited to a reception with the artist on Friday, February 12th, 5:30-9pm, at 914 Charles Street.
"I live surrounded by the marshes," Beth explained from her home on Dataw Island. "They're a fun thing to paint." She has lived in Beaufort for twenty years, and spends time in the mountains of North Carolina as well.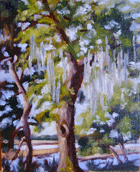 The Charles Street Gallery is an established source for Lowcountry and international art, presented within a carefully renovated house surrounded by a lush garden in the middle of Beaufort's historic district. 914 Charles Street 29902, 843-521-9054, http://www.thecharlesstreetgallery.com.