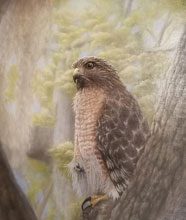 "Transcendence," the next exhibit at Art League of Hilton Head, scheduled for July 30-August 24, will be like no other at the nonprofit gallery. 
The featured artists will not be present at the opening reception Aug. 7 – because they are incarcerated at Allendale Correctional Institution in Fairfax, S.C.
However, Delane Marynowski of Hilton Head Island, a volunteer and facilitator for the Advanced Artists of Allendale, will be there to represent the men. 
The works of eight artists will be on display and for sale.
"Transcendence" was selected as the title of the exhibit because that is exactly how the artists feel about finding a creative outlet for personal expression. They have experienced the transformative power of art to transcend the limitations of their physical location and the stereotypes of their situation.
The works include subject matter such as wildlife, seascapes and landscapes, along with 3D ceramic pieces. Visitors will see oil paintings among the pastels and pen and ink drawings. Clay artists have created some of their best work for this show.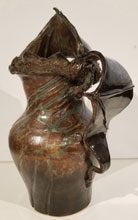 These are serious artists, and they are all self-taught. Bryan holds a BFA in computer animation, but had never painted until he joined this class. Mosi said he doesn't remember a time when he didn't have a pencil or pen in his hand. 
Terry loved comic books in his childhood, and used whatever materials he could find, "such as candy and coffee," to create art after he was incarcerated. James said he has had art in his heart for as long as he can remember, "and it's still there, struggling to get out."
Marynowski has spent nearly every Thursday for almost two years working with the inmates in the medium-security prison. She helped two of the inmate leaders, Terry and Ken, create the program outline, mission statement and course of story about 18 months ago through the Character Restoration Initiative, a nonprofit organization based in Allendale. 
CRI helps fund many programs at the prison– programs led by inmates and facilitated by volunteers. The Advanced Artists program is also funded in part by donations from members of Art League of Hilton Head.
Marynowski has brought other artists in various media to work with the men. She has provided the men with canvases, brushes, paints and other supplies. She has taken other, more advanced artists with her to the prison to teach the men about abstracts, Impressionism, color and light.
Artist friends have given her photographs for the men to use as reference materials to create their paintings.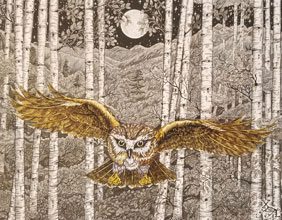 As the men became more expressive in their art, their true talent started to shine. When she saw this, and saw the transformation the artists have experienced as people, Marynowski was compelled to find a way for them to share their works outside the prison gates. She said the men's dream was to show their work in a real gallery.
This exhibit will mark the first time ever that Art League of Hilton Head has allowed non-members to be featured in the gallery.
An opening reception will be held from 5 to 7pm on August 7 at Art League Gallery, located inside the Arts Center of Coastal Carolina, 14 Shelter Cove Lane on Hilton Head Island. The reception is free and open to the public. 
The works of 150 member artists will also be on display and available for sale.
Gallery hours are 10am to 4pm Monday to Saturday, noon to 4pm Sunday, and 90 minutes before all Arts Center performances. For more information, call 843-681-5060 or visit ArtLeagueHHI.org.
WHAT:
Transcendence 
Artists of Allendale Correctional Institution
WHEN:
Exhibit: Tuesday, July 30 through Saturday, August 24, 2019. Art League Gallery is open every day: Monday-Saturday 10am-4pm, Sunday 12-4pm and 90 minutes before every Arts Center performance.
Opening Reception: Wednesday, August 7, 5-7pm. Enjoy refreshments. Free and open to the public.
WHERE:
Art League Gallery is located mid-island inside Arts Center of Coastal Carolina, 14 Shelter Cove Lane, Hilton Head Island, 843.681.5060. 
ABOUT ART LEAGUE OF HILTON HEAD
Art League of Hilton Head is the only 501(c)(3) nonprofit visual arts organization on Hilton Head Island with a synergistic art gallery and teaching Academy.
Art League Academy welcomes artists and students in all media at all skill levels, including true beginners. Taught by professional art educators, students can choose from many art classes and workshops that change monthly. 
Art League Gallery features local artwork in all media created by more than 170 member artists. All artwork on display is for sale and exhibits change every month. Located mid-island inside Arts Center of Coastal Carolina, next to the box office. Art League Gallery open every day Monday – Saturday 10am – 4pm & Sunday 12 – 4pm plus 90 minutes prior to all Arts Center Performances.
"Inspiring visual arts for our community and its visitors through exhibitions, education and partnerships" is Art League of Hilton Head's mission.