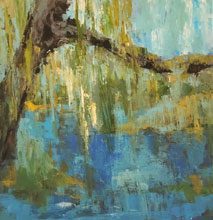 The people, landscape, architecture and the culture of the South are the subjects of Lauren Terrett's art exhibition entitled, "The Lowcountry is My Home," which runs now through August 4 at The Society of Bluffton Artists (SoBA) gallery in Old Town Bluffton. 
"The Lowcountry is at my doorstep, begging to be put on canvas," said Terrett, who often can be found painting outside in the sunshine.
Terrett has had the unique opportunity to discover two life passions: science and art. She received a degree in fine arts, then moved on to a rewarding career as a registered nurse. 
Now retired, Terrett pursues a passion for painting full-time. Terrett characterizes her work as "fast and furious, bold and colorful, impressionistic style." 
"I often let the painting find its own composition," she said.
In addition to the SoBA gallery, her paintings are on display at LaPetite Gallerie and The Art League of Hilton Head. For more information, visit http://bit.ly/ColoredCanvas or e-mail LaurenTerrett@gmail.com.
The Society of Bluffton Artists (SoBA) is a non-profit organization established to promote a stimulating community environment for the visual arts and to assist area students and artists in enhancing their artistic abilities. SoBA is the heart of the flourishing art hub in Old Town Bluffton, located at the corner of Church and Calhoun streets. SoBA offers regular art classes, featured artist shows, exhibitions, outreach art programs, scholarships and more. For more information, visit sobagallery.com for a complete calendar of events or call 843-757-6586.