The Art League of Hilton Head Gallery is pleased to present Paper Trails by Barbara F. Bothwell opening with an artist reception on September 15, 5-7pm at the Art league's Gallery, Suite 207, in Pineland Station Mall. The exhibit continues through October 10th. The public is cordially invited.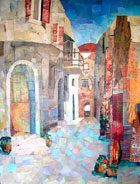 Barbara Bothwell is back with a splash on the Hilton Head art scene. Her unique fashion of working with paper started some 40 years ago, and she has never tired of it.
Drawn to art as a child, she was told that if she wanted to make art in her parents' home "it better not make a mess!" And so, she discovered her medium of paper and taught herself collage. Over the years she has successfully fine-tuned her fascinating and unique process. Bothwell finds inspiration in everyday life from items in her home to international news editorials. Artistically, her biggest influences derived from Byzantine mosaics, the Impressionist usage of color and Cezanne's interpretation of nature through the use of the cube, cone and cylinder.
One of her largest pieces immediately demands your full attention as Three Afghan Women walk toward you in their deep-blue burkas. This compelling content and powerful composition will certainly be a conversation piece. My favorite work is Rug Market, which features great reds, browns, blues and a jewel-like floor pattern. Here, the collage perfectly blends into a seamless whole. In Daffodil Pickers, Bothwell revisits a favorite, local subject matter as she colorfully depicts women harvesting daffodils at a farm once located in Bluffton. Skillfully executed landscapes, seascapes, animal portraits, figures and still lifes round out a remarkable showcase of Bothwell's art.
Bothwell works with two kinds of paper. One is hand-made, which she paints the desired colors then tears and cuts to create the necessary shapes. The other is found paper coming from printed materials such as magazines. To begin, she uses mostly torn pieces of solid color akin to tesserae in a mosaic. She then incorporates textured colors to reflect a transition from one color to another, such as is found in fold of fabric or a shadow. Preserving the color on the front with an acrylic medium, Bothwell also strips the back of some papers using water and various abrasive instruments. This manipulation of the paper allows her more latitude in the image. She especially loves the texture and depth she can achieve through this intricate process.
During her career as an artist, Barbara Bothwell owned and operated The Bothwell Gallery (Checkered Moon, Inc.) in Savannah, GA as well as The Checkered Moon in Beaufort, SC from the early 90s to the early 2000s. On the island, she had several solo and group exhibits in the 1980s (The Red Piano Gallery, Artistic Sass). Her work also garnered the Best of Show prize at the Art League's first National Juried Show. She currently has works at Picture This and Four Corners, as well as the galleries of both The Art League of Hilton Head and The Society of Bluffton Artists.
In addition to being self-taught, Bothwell studied sculpture and painting at The Savannah College of Art and Design in Savannah, GA. She also attended The International Institute of Design in Washington, DC for the study of Interior Design as well as Endicott College in Beverly, MA to study Child Art Development.
Come enjoy Barbara Bothwell's absolutely unique works showing from September 14th – October 10th. Other Art League artists' work will also be on exhibit in the main gallery.
The Art League of Hilton Head Gallery in Pineland Station Mall is open Monday-Saturday, 10:00 a.m. till 6:00 p.m. For additional information contact the Gallery at 843-681-5060 or visit www.artleaguehhi.org