Murrells Inlet artist Asher Robinson to be featured at Red Piano Too's 23rd Annual Summer Show.
When Asher Robinson began marketing his folk art along the beach, he took the advice of his mentor and friend, Ernest J. Lee, who encouraged Robinson to paint what made him feel good, and what he loved.
 
Lee believed that if Robinson followed his passion and painted the things he loved, he would be a successful artist.
Robinson does paint the things he loves, and that is the flora and fauna that surround his home in Murrells Inlet. He paints the birds and fish in the marsh and the sea life in his backyard – which just happens to be the ocean. "Just look around you . . . I will never run out of things to paint," Robinson said.
He paints everything from sea turtles to the giant Gerber daisies that pop up along the bike path leading to his outdoor art gallery along the Murrells Inlet Marshwalk.
Robinson is also a commissioned artist, and paints other genres of art as well.
"Look, I decided a long time ago that painting art that people love, and a lot of it, gives me much more pleasure than painting one or two things a month and making more money doing something that I don't enjoy as much," Robinson said.
Looking over his signature sunglasses, Robinson admits that he is not stupid and is not going to turn down a lucrative job, but painting his "folksy beach art" makes him a happy man and affords him the ability to live a comfortable life.
Scattered across the ground and leaning up against giant palm trees, there is no method to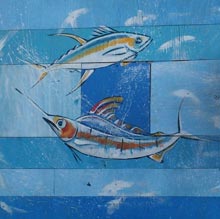 Robinson's marketing approach.
"It's pretty simple; I paint it, it dries, and sometimes before it dries, some lucky person buys it." he said.
Robinson gets a kick out of watching people gaze at his art.
"I saw this when we turned the corner, and I knew I had to have it," said Mary Hennig of Jacksonville, Fla. "No way was I going to take the chance of it being gone when we came out of dinner," she said.
Hennig paid for her art, and jokingly warned Robinson not to resell "her" fish while she grabbed a bite to eat.
"See that? See how happy she was?" Robinson said. "That is why I do what I do. People love it."
Robinson knows that some people turn their noses up at his work. Some collectors of "high art" have no appreciation for what he paints.
It doesn't bother him, though, because he truly is painting for the love of the art. Robinson believes he has a niche, and it's that niche people keep returning to year-after-year when they visit the beach looking for his gallery.
Collectors of Robinson's work choose their selections for different reasons, but they all seem to make some sort of connection with the paintings.
Tanya Biernat, on vacation from Oakland Township, Mich., chose a painting of an egret on a rustic piece of wood.
"There is something about the way he captures their eyes. It's magical," Biernat said.
She chose the egret because it reminded her of the herrings in her backyard pond.
There does seem to be a common thread in the appeal to Robinson's work.
"He makes the simplest creature come to life," said Matt Jones of Pawleys Island. "If you look at them long enough, they almost take on a personality, and it seems like they could talk."
Jones said his wife has decorated their beach house with many of Robinson's paintings.
"If it was up to her, she would have his stuff in every room in the house."
Robinson's creativity does not stop at the end of his paintbrush. He has taken his paintings and brought them to life in a children's book, "Willie the Wren," about a "sour-pitched" bird in search of life, musical and love advice.
Willie is trying to sway a young lady bird to take an interest in him, and seeks the advice of an older wiser bird that sings with a strong voice. Buddy the bluebird advises Willie to "sing with more soul, sing what you feel inside."
Willie gets the girl in the end, and tells her something characteristically Robinson, "Someone told me today to be sincere and to just sing from my soul and so here I am."
"Willie the Wren" is on sale at Clock Tower Books in Georgetown.
Robinson has also designed a T-shirt line that is set to be on the racks in local stores by the end of summer.
And closer to home . . . on Saturday, August 8th, Asher Robinson will be the featured artist at the Red Piano Too Gallery's 23rd Annual Summer Show. For more information, visit the gallery's website at www.redpianotoo.com

Editor's Note: A version of this article first appeared in the South Strand News.