Photographs by Bing-ie Tan at Art League Gallery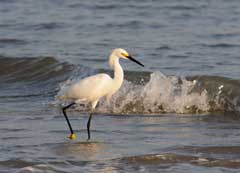 In July the Art League Gallery features "All Creatures Great and Small – Photographs by Bing-ie Tan." An artist reception will take place on Tuesday, July 13 from 5-7 pm. The exhibit runs through August 7 at The Art League of Hilton Head Gallery, Pineland Station, Hilton Head Island.
Bing-ie Tan's photography reflects her curiosity and her love of nature, new places, and diverse people. Her exotic signature image of elephants "Marching to the Waterhole" in Kenya's Amboselli National Park at the foot of Mount Kilimanjaro was captured as is with a tele-lens. A more familiar sight to us are the Snowy Egret catching its breakfast and the two butterflies – "More Gulf Fritillaries to Come" – huddled on a twig with berries. The most moving photograph is the Loggerhead baby turtle making its "Dash to the Sea". This shot was taken after spending countless hours after dark over weeks of patiently watching the nest marked with an orange ribbon, until one night the sand crumbled and the turtle hatchling emerged to embark on its journey of life.
Tan's appreciation for nature is also exemplified in the hours she spends watching the birds on Dolphin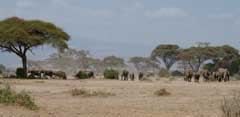 Head Beach, Hilton Head, and in her enthusiastic voice as she points out a flower she's never seen before to a companion. Tan also combines her love of traveling with her art. During the past three years, she has visited Kenya, British Columbia, Manitoba, Botswana, and South Africa to photograph the local wildlife. These trips have given her the rare opportunity to record lions feeding on a fresh kill, a mother cheetah lounging with her young, and polar bears playing in the snow. Although Bing-ie Tan enjoys finding and capturing beautiful moments, it is sharing those moments with others that makes photography fulfilling for her. When she is not peering through a camera lens, Bing-ie enjoys gardening, playing the piano, and visiting her daughter in Austin, TX. Friendships formed through the Art League of Hilton Head have also inspired her to try her hand at painting.
Come and take a virtual trip to Africa and around the Lowcountry fauna with Bing-ie Tan's photography exhibit. The work of Art League members will also be showing in the Gallery — The Art League of Hilton Head is a not-for-profit membership organization dedicated to promoting and supporting the visual arts. It operates a Gallery for the display and sale of artwork by its members. The Gallery is open Monday-Saturday, 10:00 a.m. till 6:00 p.m. For more information call 843-681-5060 or visit our website www.artleaguehhi.org