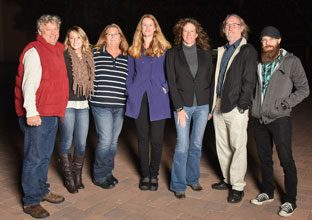 Beaufort's favorite social media photographers are stepping out, offline.
On Friday, January 22, BeaufortPics is hosting a photography exhibit called The Gathering, featuring the work of six local photographers, all of whom have large followings on social media.
Owner/photographer Phil Heim, whose work will also be on display, says, "These photographers are extremely popular on our local social networking sites, but none of them have a gallery of their own. My intention is the offer people who follow them online the opportunity to meet them, see their work "in person" and even purchase one of their favorite pieces. I've had a huge response on my Facebook page since I announced this event. To date, we have 180 people interested in attending this art show. At this rate, I am expecting 200 plus people that Friday evening to attend the art show."
Below, Phil Heim discusses each of the photographers he's selected for The Gathering. In true social media style, he refers to them by first name only:
Kelley from Nature Muse Imagery. I really like Kelley's wild life photographs and her night photography on Hunting Island beach. She has come a long way in just a short period of time with her photography. I am looking forward to seeing which photos of hers she selects for the art show.
Delk from Delk Haigler Photography. Delk is one of the most active local photographers, posting 2-3 photographs daily on his Facebook page. He never shies away from trying something new and different. Delk has a very loyal Facebook following and is known to post little words of wisdom or inspirational quotes on each of his photographs. He has gained quite a bit of attention with his style, and while others try to copy his method, make no mistake, Delk was the first and continues to use this style today.
Melissa from Bella Soul Photography. Melissa is the wild one of the group. Chances are, if you enjoy graveyards, zombies, abandoned buildings or haunted houses, then you have come across her work. I really like her style of photography. She is always thinking outside the box, taking a risk not only with her photographs but also with the places she travels to get them. Most people driving down our back roads are intrigued by an old abandoned home, hotel or business. Melissa takes it much farther and has to stop for an impromptu photo shoot. I imagine a 2-hour road trip with her would turn into a 5-hour trip real quick.
Arastasia from Arastasia's Photography. In my opinion, she (I say she because her name is almost impossible for me to spell correctly) is one of the best portrait photographers here in the Lowcountry. What most people don't know is that she is also a fantastic painter. I am hoping she brings a few of her paintings to the show. Just an all around talented artist. Her studio is located in the back of BeaufortPics so if you make it to the art show, you can see it, even book yourself an appointment if you like.
Lynn from the Beaufort Art Association and longtimephotography.com. Lynn, in my opinion, is one of the best wildlife photographers in Beaufort. That's what drew me to her work a while ago. Since then, she has also impressed me with her landscapes. She posted a photograph on Dec 15th of the wreaths at the Beaufort National Cemetery that was simply amazing. Lynn is very active in the Art Association as well as our local photography club.
Shawn from CSH Photography. Shawn has also come a long way since he started sharing his work. He posted some recent Christmas themed photographs of Beaufort that are very impressive. I first met Shawn through the business side of photography with S&K Associates, where Shawn puts to use his expertise in graphic design. He's the newest photographer in the group, which is why I am really looking forward to seeing which photographs he selects for the art show.
The Gathering will take place on Friday, January 22, from 5 – 8:30 pm. Refreshments will be provided, along with wine, beer and water. BeaufortPics is located at 910 Port Republic Street in downtown Beaufort.