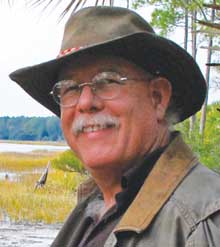 Forty years of painting coastal South Carolina and the southeastern seaboard by plein air artist West Fraser will be the topic at Dinner & a Lecture at the Verdier House, 801 Bay Street, September 26th.
Fraser will discuss the art from his new book, Painting the Southern Coast: the Art of West Fraser, and sign copies which will be for sale at the event.
A member of the prominent Fraser family of Hilton Head, Fraser has shown his work in eight solo museum exhibitions across the country including the Telfair Museum of Art in Savannah. Next January he will conduct his third one-man show at the Gibbes Museum of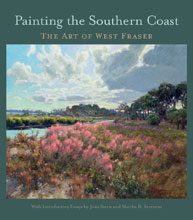 Art in Charleston.
He received his BA in Fine Arts from the University of Georgia and is an artist member of the Salmagundi Club and a signature member of the prestigious PAPA, Plein Air Painters of America. Fraser has been published extensively, including features in Art and Antiques, Plein Air Magazine, The Robb Report, Southern Accents, American Artist, Nautical Quarterly, Southwest Art, Art and Antiques, Charleston Magazine, and Garden & Gun. West Fraser is represented by Helena Fox Fine Art in Charleston.
Dinner & a Lecture is a monthly educational series, September – May, sponsored by Historic Beaufort Foundation. Other fall lectures include archaeologist Daniel Battle speaking on "New Discoveries in the Battle of Beaufort" on October 24 and photographer David Shriver Soliday speaking on "Remnants of the Rice Culture: Agricultural History as Art" on November 14.
Reservations are necessary as seating is limited. A wine and hors d'oeuvre reception begins at 5:30; the program is 6 p.m. – 7 p.m. Admission for members is $15/$25 per member/couple. Non-member admission is$20/$30 per person/couple. Call 379-3331 to make reservations. Reservations for Saltus River Grill's special for lecture ticket-holders may be made by calling Saltus at 379-3474.