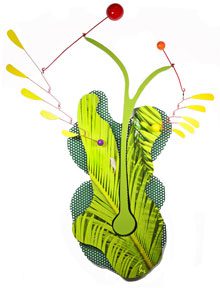 What, pray tell, is a Wall-Bile? 
Walk into the featured artist area in the SOBA Gallery during February and you'll find yourself in a world of brilliantly colored wall sculptures with moving parts—discs, balls, odd shaped metal pieces—that dip, sway and swirl in the air when tapped. These kinesthetic metal designs spring from the fevered mind and skilled hands of sculptor Mark Larkin, who pays homage to his hero, twentieth century artist Alex Calder. 
Calder, Larkin explains, created mobiles—massive kinesthetic sculptures suspended from ceilings—and stabiles—large floor-based kinesthetic sculptures. Larkin, in turn, uprooted the idea of mobiles and stabiles from those horizontal anchors and attached them to walls, normally the province of paintings that invite the eye. Wall-biles, however, also cajole fingers to touch, lips to blow and laughter to erupt. Shadows cast by the moving pieces become part of the show.  
In Ergonomaly Larkin tops a broken disc of Roy Lichtenstein-style Ben-Day dots with a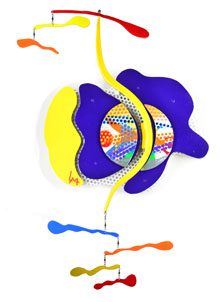 stabile of orange, yellow and red squiggles. But then he balances it in his own playful way with a quartet of these colorful shapes dangling below. A sky full of fluffy clouds Larkin spotted from the deck of a cruise ship provided the inspiration for Zap! but then he sends a bolt of lightening jutting out from the blue, trailing a path of misplaced fluffy white puffs that rock back and forth to their own rhythms.
Upwardly Wall-Bile opens at the Society of Bluffton Artists (SOBA) Gallery at 6 Church Street in Bluffton on Tuesday February 2 and runs through March 6th. There will be a wine and cheese reception Sunday February 7 from 3-5 pm. To hear more of the story behind these whimsical creations, join Mark Larkin for his Art Talk on Saturday February 13th at 11 am. For information: 843.757.6586  www.sobagallery.com