This year's Fall ArtWalk is a special one for Art & Soul Gallery, which is using the occasion to celebrate its tenth year in business. Lowcountry Weekly spoke with Gallery owner Reggie Przybysz about the joys and challenges of her job.
LW: What's the first word that comes to mind to describe how you feel having reached this milestone?
RP: Unbelievable! This is the longest "job" I've ever had and it's gone by in a flash.
LW: There are lots of galleries in downtown Beaufort. What makes yours special? Do you feel you've carved out a certain identity, or "niche," and if so, what is it?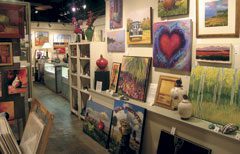 RP: I've always felt that visitors want to see what local artists create and how they are influenced by their surroundings, in this case, our beautiful and unique Lowcountry environment. I have been carrying primarily local artists right from the beginning, many of whom have been with me for nearly the whole time. I carry a variety of artwork to create an eclectic mix of original paintings, photography, pottery (both functional and decorative), hand-made jewelry including glass beadwork, as well as sculptural pieces (including soft, wood, glass and mixed media). I am interested in working with artists who do their own work, so it will be unique and you won't keep seeing it everywhere. There are occasional opportunities to add new artists and their work, and that helps to keep things fresh and new, so my local customers also have new items to choose from (or "from which to choose" – just to show you I know my grammar… I think). I am so honored that they come in for gifts and paintings throughout the year.
LW: What are some of the greatest challenges you've faced as a gallery owner in Beaufort?
RP: Being in downtown Beaufort is wonderful because it is such a draw for visitors and local residents alike. But any merchant who's been in town for a while knows that we have periodic "opportunities" here as well. No matter how well you plan, you can't always totally anticipate the effects of streetscapes, park renovations and barges hitting bridges… or even rainy days!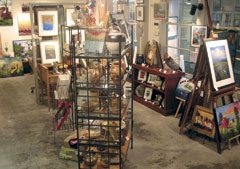 LW: Lots of folks dream of owning a gallery. Can you offer any words of encouragement – or warning! – to those who might consider acting on that dream?
RP: Do your homework, understand the business cycle here, have enough money to get started and stay in business, and ask for friendly advice. Also, get automated from the beginning (although I'm not sure I would have known exactly what I needed when I first opened my door). Plan, stay flexible, but also know what your goals are and make decisions that will help you stay on track. Most importantly, keep a sense of humor when you're faced with the inevitable challenging opportunities that will arise. Also, stay hands on in order to really understand how your business is doing. Oh, and don't expect to get regular vacations or relaxing days off.
LW: What would you say is the key to your gallery's longevity?
RP: I really can't come up with just one thing. I think it's combination of factors. I would say it's the wonderful mix of artists and their artwork that I have been showing for ten years. I have also been fortunate to have had just a small number of long-term employees that share my goals of quality and customer service, and together we have helped earn the loyalty of our customers over the years.
Art & Soul, located in the Old Bay Marketplace in downtown Beaufort, will celebrate its 10th anniversary during the ArtWalk festivities on Saturday, October 24th. Artists will present new works exploring the environmental theme, an issue so important to those of us who love this area and want to protect the beauty of the Lowcountry. Participating artists include Eric Horan, Kelly Davidson, Bill Mead, Mary Jane Martin, Mary Pratt, Mary Grayson Segars and Marlies Williams.