The Guild of Beaufort Galleries invites you to attend the sixth annual Fall ArtWalk on Saturday, October 24th from 5:00 until 7:30 p.m.

Each of the eleven galleries located in beautiful Historic Downtown Beaufort will feature special exhibitions. The Guild offers an eclectic array of artists presenting their collections for the first time purchaser or seasoned collector.
Four Winds Gallery will be showing Beauforts' own highly collected Cassandra Gillens, known for her naïve colorful portraits of the Gullah. Also in the gallery that evening will be USCB Professor Amiri Ferris, offering his paintings that focus on his use of social realism and original imagery. The I. Pinckney Simons Gallery will feature Elena Madden, "Reflecting On Reflections And More," a body of paintings inspired by light play on water as well as the reflection of water within. Artist Debbie Martin will, also present "Our Southern Landscape; The Atmosphere and The Beauty,". These works represent her reflection of memories of the South Carolina Lowcountry painted on canvas in her abstracted realism style with commitment to a bold beautiful palette. This joint show vividly expresses great emotion of the artists as they commit to the water and land. The Bay Street Gallery is proud to announce the inclusion of two new artists, Nancy Pollock and Michael B. Pearson. Nancy Pollock's mosaics combine texture, color, and function to create fantastic three-dimensional objects that are sometimes whimsical. Michael B. Pearson is a well-known water colorist, and Bay Street Gallery pleased to present her vibrant botanical watercolors featuring the natural beauty of the Southeast.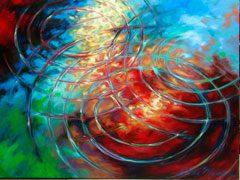 GAGA Girls sashay back to The Gallery for another prismatic performance! Anita Prentice's work encompasses subject matter from traditional to preposterous. "Fish, Fashion, and Flora" will premier, frescoed mosaics. Ginny Piech Street's pieces are bits of stories. She will feature a whimsical collection of collage and small sculpture called "Jeter Wayne and Verlene's Party." Indigo Gallery, a beautiful boutique gallery of gifts and fine art is featuring Beaufort artists Sandra Baggette, Alison Crossmann, Gloria Dalvini, Janet Mozley, and Polly Swenson. A gallery of highly collected American crafts is The Craftseller, this is a definite stop on the ArtWalk. This has long been the destination for pottery, jewelry, and objects of glass. The historic Rhett Gallery offers four generations of artists known for their original paintings, prints, and wildfowl carvings. Art and Soul located in Old Bay Marketplace will celebrate its 10th Anniversary during the ArtWalk festivities. Participating artists include Eric Horan, Kelly Davidson, Bill Mead, Mary Jane Martin, Mary Pratt, Mary Grayson Segars and Marlies Williams. Artists will present new works exploring the environmental theme, an issue so important to those of us who love this area and want to protect the beauty of the Lowcountry.
LyBensons Gallery and Studio specializes in African American and African Art. Also being offered is a fine collection of Gullah and Folk Art of the South Carolina Lowcountry. Located on the corner of Bay and Charles Streets, The Beaufort Art Association Gallery presents "Today, I am An Artist," by Kim Bogan in addition to their member's exhibition "Hunting Island, Hunting Island Light House, A 150th Anniversary." This is a must see as well, the members are Beaufort's true local artists! Last but not least, Charles Street Gallery , 914 Charles Street, is showing "Come Into My World," a beautiful exhibition by Cindy Zeiss. Watercolors, pastels, and designs on silk represent the artists visit to China as each brush stroke brings the viewer into Zeiss's world.
{mosimage}The Guild of Beaufort Galleries, voted 12th small Art Town in America promises an evening of great exposure to the wealth of art we bring to this historical and cultural Southern town. Please join us on October 24th as we celebrate our annual event. www.guildofbeaufortgalleries.com