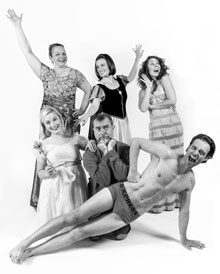 Spend a madcap weekend in a Bucks County farmhouse with a trio of siblings that could be straight out of Chekhov… except that playwright Christopher Durang has shredded, chopped, and pureed them into a rollicking comedy about a dysfunctional family.  
Vanya and Sonia's life is disrupted when Masha, their glam movie star sister, flits in from LA with her boy-toy Spike in tow. Family rivalry and Masha's suggestion to sell the farm erupts in one-upmanship, slapstick, smashed crockery, stripteases, and rants on popular culture—mixed in with dire predictions by their housekeeper/soothsayer Cassandra who frequently gets stuff wrong.
Lean Ensemble Theater presents Tony and Drama Desk Award Winning Vanya and Sonia and Masha and Spike by Christopher Durang. The uproarious comedy, directed by Blake White, features lean ensemble members Jim Stark, Peggy Trecker White, and Jenny Zmarzly along with Megan Bowers, Christopher Joel Onken, and Kendra Williams who will be making their Lowcountry debuts.
Vanya and Sonia and Masha and Spike. Four performances only! Audience talkbacks with members of lean ensemble following each show. May 5-7 at 7:30 PM. Sunday matinee May 8 at 2 PM. Hilton Head Preparatory School Main Street Theatre, 3000 Main Street, Hilton Head Island. Tickets: $40 evening performances; $35 matinee; $15 students/active military. To purchase call 843.715.6676. For information visit www.leanensemble.org