The next show at the Beaufort Art Association (BAA) Gallery will feature the work of Lowcountry artist Gail Newton.  The title of her show is "Journey" and will run from May 30 to July 31, 2021. An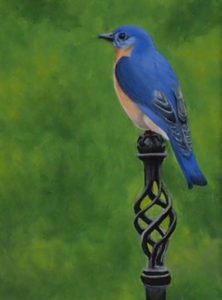 artist's reception will be held at the Gallery at 913 Bay Street in Beaufort on Friday, June 4, from 5 – 8 pm.
In 1974, Gail moved to Mount Pleasant, SC, where she met and married her husband, Bobby, a long-time Charleston, SC, native. She worked in public education in Charleston County for over 30 years as a teacher and guidance counselor.
After her retirement, Gail's "Journey" in art began, as she studied oils in Charleston under Teresa Key Wooten, Karen Hewitt Hagen, and Jim Darlington. Once her husband sold his business, they moved to Little Torch Key in the Florida Keys, where she further pursued her art, studying acrylics under Jim Salem. Her love of the tropics is reflected in much of Newton's art, as is her love of the Lowcountry and nature.
Newton's journey continued when she moved to Beaufort two years ago with her husband.
Besides Newton's work, the work of other artists who are members of the Beaufort Art Association will be on exhibit, as well. Chartered in 1957, the Beaufort Art Association is a tax-exempt membership organization. Currently, local artists belong, with a number of them exhibiting their work in the Gallery.  To find out more or to join, go to www.beaufortart.org  or call 843-521-4444.