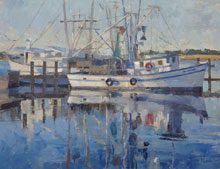 SoBA'€™s Center for Creative Arts presents "Seven Keys to Successful Painting" from 9:30 a.m. to 3:30 p.m. June 24-25 at the Center for Creative Arts, 8 Church Street in Old Town Bluffton.
This class will give artists a look at the principles that help make your paintings work. Explore and discover your own approach and attitude within these guiding principles. Learn how to avoid common failures and be the confident author of your work. Beginner to advanced levels welcome. Bring your own reference materials.
The cost of the workshop is $120 for members and $140 for non-members.
Instructor James N. Lewis is represented by several galleries along the East Coast and Florida. He has a BFA degree from Columbus College of Art and Design. His artistic influences range from Whistler to Wolf Kahn as well as many contemporaries in American painting. Lewis has had years of professional experience as an illustrator, art director, designer, and University art instructor. Personally his painting is influenced by his work as a designer, illustrator and from years of painting and instructing watercolor.
Please make reservations in advance for all workshops. Art teachers' compensation for their time and expertise depends on a minimum number of students per class. Registration commits you, the teacher, and SoBA. When enrolling, please pay in advance by check, credit card or PayPal on the SoBA website.
To register for the class, call 843-247-2868 or register online at www.sobagallery.com.