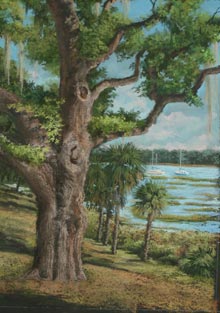 Beaufort Art Association introduces painter Paul Frederick to the artistic community.  Paul, a recent transplant from Upstate South Carolina, is a realistic representational landscape artist.  He will be the Featured Artist at the Beaufort Art Association Gallery from February 1 through March 28. 
                  Paul's  work is a reflection of the emotion he feels when he experiences the beauty of our environment.  Though he has a fine arts degree from Ohio State University, his current work is an accumulation of discovery.  His paintings are the result of an ever expanding process of learning a 'vocabulary' that allows him to translate his emotional response into a compelling landscape scene. 
                  Paul is very fortunate to have grown up in a family that had a great appreciation for nature and the outdoors. He credits his father for planting the seed to paint, by exposing Paul to the beauty of the American countryside.  Their vacations involved packing the family station wagon with a pop-up trailer in tow and heading out to experience the unique wonders of nature and geology that each state had to offer.  They would travel across the country camping at state parks along the way.  From Cadillac Mountain in Maine to the Grand Tetons at Jackson Hole, Wyoming, and everything in between.  They would visit national parks where Paul would absorb the beauty of the landscape.  He found it fascinating how unique each state could be.  The Badlands of the Dakotas, the expanse of the Plains in the Midwest, the rise of the Rocky Mountains, the depths of the Grand Canyon; all were breathtaking.  He would record as many of these scenes as he could with his camera with the intention of painting them later.
            As Paul became a serious student of art, he was captivated by the Hudson River
School artists.  Their depictions of landscapes reminded him of his own feelings when he visited those same national parks throughout his youth.  The Hudson River School artists shaped his ideas on how to translate what he saw and felt into his paintings. 
            In June of  2014 Paul relocated to Beaufort and found an open studio/gallery space available at Atelier on Bay, where he's an active member. Atelier has afforded Paul the opportunity to paint full-time and display his work.  He joined Beaufort Art Association, to gain added exposure.  Paul has been a member of various art associations over the years, but never encountered a gallery setting like BAA. "I have found my home in Beaufort," he says. 
            Paul's Opening Reception will coordinate with next month's First Friday, February 6th from 5:30 to 7:30.  The public is encouraged to attend and meet Paul and learn more about his art.  The work of 75 other member artists will be on display along with the opening of  Beaufort Art Association's new Brick Wall Gallery.  Beaufort Art Association is at 913 Bay Street in Downtown Beaufort.