Pam Kessler looks forward to new book, solo exhibit
Botanical Watercolorist P.A. Kessler has two reasons to celebrate: The publication of her new book Response to Nature and the opening of her solo exhibition under the same title on June 5 and running through August 27, 2010 with free entry at the Walter Greer Gallery at the Arts Center on Hilton Head. The solo exhibition continues at ARTworks, in Beaufort, from September 3 – October 12.
Pam's work pays homage to a long tradition of botanical painting that dates back to the 16th century. Finely detailed illustrations were used to identify medicinal plants and herbs and later to record new species of plants as explorers and scientists made their epic voyages of discovery. Pam's paintings retain this accuracy of botanical detail, but are infused with her own creative interpretation of each plant's essence.
Pam's love of nature began as a young girl. "My father would take me on nature walks near our Michigan home, stopping every few yards to admire and identify plants. He taught me to stop and look carefully at each plant. This ability to really see my subjects is what enables me to capture each detail."
"I work with intense light and magnification and it can take weeks of eight hour days to complete a painting.
Some of the details are so tiny I use a brush containing just three sable hairs."
"My first love was orchids, but over time I have become fascinated with the textures and patterns of nests and feathers and dragonflies and every day some incredible new detail will catch my eye and call to me."
She can smile now as she recalls how her professors at university chastised her for her attention to detail. It is precisely this capacity along with her artistic vision that make her one of the most sought after botanical painters in the country today, exhibiting her work in New York, Chicago, Naples and Miami.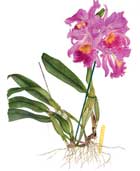 Fine art Giclee prints of her paintings and copies of her book will be available at the Exhibition.
To pre-order Pam' new book:
Response to Nature Botanical Watercolors 1972-2010
$59.99 + $6 S&H
www.starbooks.com
Arts Center-Coastal Carolina
14 Shelter Cove Lane
Hilton Head Island, SC 29928-3543
843-686-3945
artshhi.com
M-F 10-4
For more information contact:
lydiainglett@gmail.com
843-290-8973
Cover and pages from
Response to Nature
144 pages on heavy weight
imported paper imported
from Finland, hard bound
in linen with tipped-on
painting on front cover.
$59.99 + $6 S&H