The Art League Gallery presents a dual show "The Lowcountry," an exhibit of 35 new oil and watercolor paintings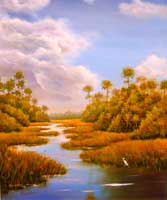 by local artist Terry Brennan, and "Spirits of the Sea," a collection of ceramic art by Susan Ellzey opening with a reception on May 12, 5-7pm at the Art League's Gallery, Suite 207, in Pineland Station Mall. The exhibit continues through June 6. The public is invited – Come and meet the artists!
Largely self-taught Terry Brennan's work reflects the beauty of the Lowcountry landscape with its weathered buildings, scenic waterways, shrimp boats, marshes, and its live oaks dripping with Spanish moss. His pallet expresses the colors of the seasons and the changing light. "I enjoy the challenge of capturing sunrises and sunsets, the play of light on the water, and the shadows of a pine forest," says Brennan. "Value and color harmony are critical to the success of my work. I usually keep the foregrounds in warm colors and use cooler, grayer colors as the planes recede. With each landscape I attempt to capture the emotions and mood of that moment in time."

An engineer by trade, Brennan retired to Hilton Head Island sixteen years ago and has taken workshops with noted plein air painters Tom Lynch, Irving Shapiro, Tony Couch, Charles Gruppé and Morgan Samuel Price. He has been President of the Art League of Hilton Head for the past three years and also served as past president of the Society of Bluffton Artists. His commissioned works hang in many homes and businesses throughout the area.
Susan Ellzey began working with ceramics when she retired in 1996. The world of clay continues to be one of exploration and discovery for her. Her theme of Spirits of the Sea is expressed in her original fish, shells, driftwood and unique figurative works, suspended and stacked sculptures; it also alludes to the symbolism of water in ancient cultures. "I hope my work reveals the joy that I experience in creating it," says Susan.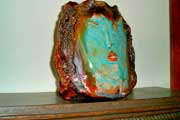 Ellzey is intrigued by the timeless and eternal quality of the clay she is working with. To Susan it feels as if the wisdom of the ages is intrinsic in the material. Joseph Campbell, the authority on mythology and symbols, found statues of female idols and referred to them as eye-goddesses, some were found with blue eyes of lapis believed to be the "eyes of the heavens," some were found with no eyes, their image was more mask-like. These insights served as inspiration to Ellzey's work when she began creating masks that have evolved into a series of women and children. She considers the women goddesses and some of them she gave blue eyes; they are all connected by way of the sea. Ellzey's totemic sculptures, however, evoke the fragile and universal connections that tie us to nature and to each other. Susan is now working on suspending ceramic creations that may suggest a story or memories for the audience. All her "Spirits of the Sea" work is hand built and original; most of it is fired in the Raku process.

Susan Ellzey has participated in workshops with Patricia Hankins, Rick Berman, Joe Bova, and Jerry Maschinot. She had her first show in 2002 in Georgia, was featured 3-D artist at the Beaufort Art Associations in 2007, and now for the third time at the Art League of Hilton Head. Susan Ellzey was an English professor and college administrator and holds a PhD in Renaissance Literature from The Florida State University.
For more information about this show, which also includes the artwork of another 100 Art League artists, call the Gallery at 843-681-5060 or visit the website www.artleaguehhi.org