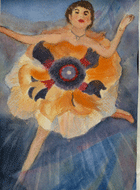 Which great masters inspire us to create our own artwork? What is it that causes our hearts to skip a beat? Is it a color, a line, a shape or is it the content or overall composition? How do we integrate the things we see in favorite pieces into our own work and transform it into something personal? These are the questions that the artists of the Beaufort Art Association (BAA) explore in their next exhibition, Masterpiece Masquerade. Here, each exhibitor researched favorite artists and then either incorporated that style into a work of their own or replicated the original while changing something in the composition, a play on art, if you will. The exhibit may be viewed at the BAA Art Gallery at 1001 Bay Street from February 22 – April 3 with an opening reception on February 26 from 5:30 – 7:30 PM.
Masterpiece Masquerade is on its way to becoming an annual event with this being the second year that the BAA has held the exhibit. Basically, members had so much fun with this theme last year and the work was so interesting that it was enthusiastically decided to do it again. It really fits right in with the purposes of the BAA, which are to encourage, support and provide opportunities for the growth of all members, and to contribute to the community with aesthetic and educational experiences in the visual arts. At press time, forty-two BAA artists had created one or two pieces for the show.
What will you see? Well, those of you familiar with Betty Powell's work know that she pushes the boundaries; she experiments and incorporates newfound ideas and techniques into her artistic palette. Thus, it is not surprising that Powell had a difficult time focusing on one masterwork. She vacillated between Edgar Degas' Danseuse Assise and Georgia O'Keeffe's Oriental Poppies, two wildly separate universes. Having to choose between them created a bit of a dilemma. Then the thought of dressing a Degas ballerina in a tutu of O'Keefe's poppies tickled her muse resulting in her synergistic pastel entitled O'Keefe Dancing with Degas. Now, that is a vision. Cynthia Zeiss continued with one of these masters with her piece fashioned after an O'Keefe floral pastel, Pink Sweet Peas, painted in 1927.
Winslow Homer, an American landscape painter and printmaker, makes an appearance with Ellen Long's Fresh Air Joined by Baa Baa Black Sheep. Like many of our local artists, Homer was largely self-taught, taking classes when he could, but largely independently honing his skill throughout life. In the original, all of Homer's sheep were white. Ellen reproduced his piece in watercolor with a black sheep, perhaps a subconscious expression of her inner spirit.
There is much more to view at this creative smorgasbord. Eve Miller has done a rendition of Mary Cassatt's Child in a Straw Hat and Pam Hagan is diving into the depths of the Austrian iconoclast Gustaf Klimt. Sandy Dimke's piece, Tulleries Allee, was created using a photograph taken in Paris. Dimke digitally "re-mastered" the photo to emulate an oil painting in the style of Impressionist Claud
e Monet. Casa Bacot was inspired by Picasso's "Blue Period", which refers to a series of paintings in which the color blue dominates. It is a wonderful expression of poetic subtlety and personal melancholy and contributes to the transition of Picasso's style from classicism to abstract art. Finally, rumor has it that David Addington is planning a Christo wrap. We are not expecting wrapped bridges across the marsh or yellow umbrellas lining Bay Street but then one never knows what Dr. Addington will come up with. It is top-secret stuff so perhaps you should wear a mask and remain undercover when you attend the reception for Masterpiece Masquerade at the BAA Gallery at 1001 Bay Street on Friday, February 26 from 5:30 – 7:30 PM. As an added benefit, for your entertainment, The Laizee Rivers Band will play on the Veranda of the George Elliott House.