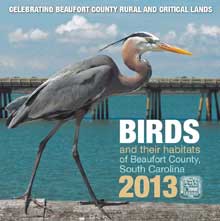 Beaufort County Administrator Gary Kubic unveiled the 2013 land preservation calendar Monday, November 26, during the regular meeting of county council.
Kubic also introduced the local photographers whose pictures were selected for the calendar from among more than 200 entered in the county's annual photo contest. "Every year I say the new calendar is the best yet and I always believe it. That statement is absolutely true again this year! The 2013 calendar theme 'Birds of Beaufort County and Their Habitats' reflects a relationship with local birding clubs for development of the calendar. It expands our outreach into the community and beyond and strengthens our partnership with citizens for this wonderful project."
A photo by Patricia Roche of Bluffton, depicting "Mr. Charlie" a Great Blue Heron at Hunting Island State Park, was chosen for the cover. The annual calendar, which began in 2006, serves as a vehicle for information on the County's Rural and Critical Land Preservation Program.
Kubic said the calendar should make meaningful holiday gifts. "All proceeds benefit land preservation in our County. This program protects our environment, waterways and wildlife habitat from development. It preserves our amazing Lowcountry views and protects the operations of the Marine Corps Air Station from encroachment. It saves tax dollars by eliminating the need for public services that come with development; such as highways, schools, ambulances, libraries and law enforcement. These services are costly and do not pay for themselves," he said.
The County's land preservation program has protected more than 20,000 acres of rural properties. Many of these parcels are being shaped into passive public parks.
The 2013 calendar was designed by Pamela Brownstein. It retails for $15 and is available for sale at the County website: www.bcgov.net or from members of the Fripp Island, Sun City and Hilton Head Island Audubon Clubs. They are available in Beaufort at the County planning department, County Administration Building, 100 Ribaut Road, the Beaufort Regional Chamber of Commerce gift shop on Craven Street, the Beaufort Bookstore on Boundary Street near KMart, Fordham's Market on Carteret and Bay Streets, the Downtown Marina Gift Shop on Bay Street and at the offices of the Open Land Trust, 1001 Bay Street.
They are available in Bluffton at the Maye River Gallery and on Hilton Head Island at Coastal Discovery Museum.