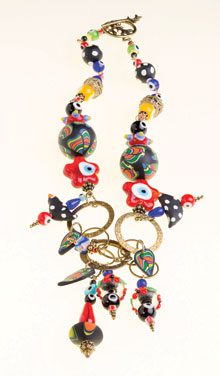 Beaded sculptures, jewelry and embroidered art pieces fashioned with thread or wire are just a few of the techniques displayed in the "For the Love of Beads" exhibit at the Art League of Hilton Head Gallery. The splendor and sparkle of beadwork have continually fascinated the six featured artists who have combined their talents in this innovative and imaginative presentation of beads of all colors, shapes and sizes.
Caroline Alderman has been making intricately patterned polymer clay beads since 1990. The color is in the clay – they are not painted. She creates bold, unique jewelry, which is often described as wild, whimsical and wonderful.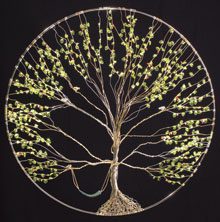 Nancy Apy was introduced to bead designing about 5 years ago. She enjoys working with natural stones, which are reflected in her "nature related" subject matter. Her goal when creating is to stretch the limits of beading materials to achieve something extraordinary.   
Lydia Chojnacki was bitten by the bead bug in the 1990's. Over the years, her work has evolved from simple jewelry pieces to complicated classic designs that incorporate semi-precious beads, wirework and a variety of beading techniques. Uniqueness and quality craftsmanship are the tenets of her work.
Carol Geraghty found an outlet for her love of beads when she began creating elegant beaded purses. Gradually she transitioned into bead weaving and designing jewelry for today's woman. Carol finds time to share her love of jewelry-making by teaching adults at a local bead shop and children at the Boys and Girls Club on Hilton Head island.
Maxine Oliver has been making beaded jewelry the past 10 years after transitioning from precious metals when the price of gold became too prohibitive. In 2008 she entered the Washington DC/Baltimore Bead Society's juried show and won 1st prize in the Swarovski division for a necklace. As an Art Quilter, she also has incorporated her love of beads into small wall quilts.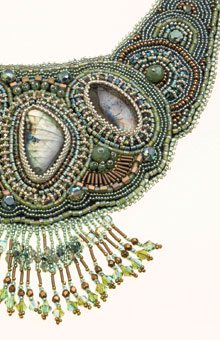 Linda Raih, seed bead artist, has a passion for beads. She loves the detail work of bead embroidery and enjoys using different sizes and shapes of beads in her work. Linda began beading about 7 years ago and has become one of the jewelers at Art League of Hilton Head Gallery and a teacher of jewelry techniques at Art League Academy.
Most of the bead pieces in this exhibit are one-of-a-kind. This is a great opportunity to choose a stylish elegant gift for that special someone or for yourself. The artists will take turns demonstrating their expertise and techniques during exhibit hours at Art League of Hilton Head Gallery. Call the Gallery at (843) 681-5060 for more details. Hours are Tuesday through Saturday from 10am to 4pm and also 90 minutes before all Arts Center performances. "For the Love of Beads" is open to the public starting Tuesday, December 8, 2015. The evening reception is from 5-7pm on Thursday, December 10, 2015 where visitors can enjoy refreshments and meet the artists. The show runs until January 2, 2016.
'Blue Window Santa' by Kathleen A. Borzacchini