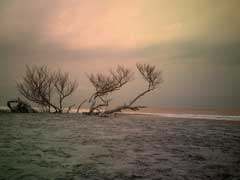 The Photography Club of Beaufort is pleased to announce winners of the 2010 Dale Westcott High School Nature Photography Award. This annual award is given in memory of Dale Westcott, a Habersham resident who died suddenly in 2005. Dale was a retired teacher and administrator and avid nature
photographer. Barbara Westcott will award the checks and ribbons at the club meeting on January 10, 2011 at 7pm. The students, guests and general public are invited to attend and celebrate the accomplishments of these talented students.
Students from all the local high schools participated and this year Battery Creek High
School swept all 4 awards.
1st Place: Ashley Volpe "Summer of September"
2nd Place: Amy Logan "Secret Garden"
3rd Place: Alexis Miller "Ketchup and Relish"
Honorable Mention: Caitlynn Young "Sunset"