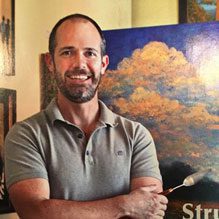 Rob Shaw, noted South Carolina artist, will offer a 2-day workshop on Palette Knife Painting on Sept. 28-29, from 10 am to 4 pm each day. The workshop will be held at Coastal Art Supply on 216 West St. in Beaufort. The cost is $275.
The workshop will focus on oil painting techniques with the palette knife. It is for artists with all levels of experience. Shaw will use a demo-style approach to show how to paint landscapes with the knife.
"The idea is to use the knife for a more bold and decisive painting," Shaw says. "I typically complete a painting in one sitting. I enjoy working with the painting while it is wet and keeping it fresh. For me, the joy is in the process of painting. With the palette knife, you can quickly see your painting develop. It is very rewarding."
A native of Columbia, SC, Shaw earned a bachelors degree in studio art from the University of South Carolina. He has had numerous group and solo shows in galleries throughout the state. He is the resident artist at Haven's Art Gallery in Columbia, where he teaches group and individual classes in color mixing, composition, and techniques with the palette knife, dry brush and glazing.
The workshop is open to the public; however, spaces are limited. To register or for more information, contact Tommie Toner at the Beaufort Art Association Gallery at baastudio2018@gmail.com.