Pat Kelly and Gay Torrey at the BAA Gallery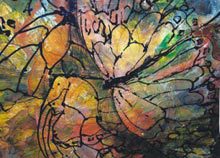 The Beaufort Art Association is pleased to announce the opening of "Out of the Box," an exhibit featuring the mixed media artworks of featured artists Pat Kelley and Gay Torrey.
The exhibit will begin on October 28 and remain open until December 8, with an opening reception on Friday, November 2, 2012 from 5:00 until 7:30 pm. The Beaufort Art Association Gallery is located at 913 Bay Street in historic downtown Beaufort and is open Monday – Saturday from 10:00 am to 5:00 pm. The art of other BAA exhibiting artists will also be on view in addition to the annual Holiday Boutique.
Pat Kelly has been an artist for over forty years and has participated successfully in numerous juried
shows. Kelly, a native of Dayton, Ohio says that Dayton had a very rich and strong artistic community where she developed an appreciation for art and was exposed to many top American artists. After moving to Charlotte, North Carolina, Pat worked for an interior designer where she incorporated customer fabrics into original pieces in both abstract and realistic styles. Pat's art tells a story and utilizes water media and collage in addition to her personally hand carved stamps and original applied tissue papers.
Pat's work has been featured in print in the Northlight books: Exploring Color (1st edition and The Creative Artist (1st edition). She has also been featured in The Artist Magazine "Art School" books on color. Pat is an established, award winning artist and currently exhibits her work at the Beaufort Art Association Gallery in Beaufort South Carolina – she resides with her husband Tom on Lady's Island.
Gay Torrey is a mixed media and collage artist who has lived in five different states and raised a family of nine. Gay partially credits her talent and interest in art to her great grandfather who was an artist. As she moved frequently with her Marine husband Robert, she became deeply interested in art and began to study and take workshops with well known professional artists such as Mary Whyte, Gerry Brommer and Anne Van Mierlo.
Gay says that her interest in collage has led her to a new and exciting form of art which has won awards in various juried shows. For example: her piece For Christina was juried into the South Carolina Watercolor Society's traveling exhibit and won best of show in the Lowcountry Art Exhibition. Gay's deep faith and love of her family are expressed with a joy that is evident in her mixed media pieces. Gay is a member of the Beaufort Art Association and she especially loves encouraging her fellow artists. She hopes that all who view her work will find something that holds them, even if it is just for a moment or two; that would make her very happy.