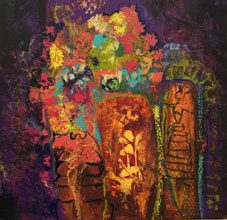 Bees, Cold Wax, and Melba Cooper
Oil paint and beeswax are a marriage of content and medium in Melba Cooper's new abstract paintings inspired by the Honeybee.  
            "The plight of the bees has prompted me to explore this essential insect's powerful scientific and symbolic meaning. The list: hardworking, cooperative, functioning community, honoring the feminine, harmony, transformation… provides a sweet source of connections to traditional meaning, current research and the cross-pollination of ideas. Through intuitive painting, I find luminous beauty, mystery and wellness. In these paintings I imagine and long for the hum of a sacred regard for the Earth. "
            Cooper invites you into her paintings to experience your own interpretations. Enjoy a "path of the pollen" process room of her sketches, materials, and insights from science, mythology and literary inspiration. 
            Cooper moved to the Lowcountry in 1974 where she had a career teaching art and arts integration.  She is a member of the Beaufort Art Association.  She now resides most of the year in Western NC. 
            Come see Melba Cooper and "Pollination" at an opening reception on Friday, April 8 from 5:30 – 8:30 at the Charles Street Gallery. The show run through April 29. The Charles Street Gallery is an established source for Lowcountry and international art, presented within a carefully renovated house surrounded by a lush garden in the middle of Beaufort's historic district, at 914 Charles Street. For more information call  843-521-9054 or visit www.thecharlesstreeetgallery.com