Mastering the fundamentals and various approaches to watercolor art is challenging and rewarding. Michael Pearson, Beaufort Art Association's next featured artist, has truly mastered her technique.
After over a decade in commercial advertising and design Michael moved into fine arts. With a degree in fashion illustration and having been trained in half tone washes, she thought watercolor might be a natural fit. It turned out to be much more than that. This was literally "Love at first stroke!" Thirty-six years later the love affair continues. Michael has gained notoriety with many shows and awards and has shared her expertise in teaching workshops over the past twenty years.
This exhibit will feature the reasons Michael calls watercolor the most fun medium for any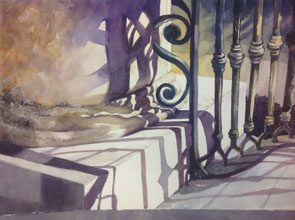 artist to work with. She says the versatility and spontaneity can hold an artist's interest for a lifetime. Many of the fascinating techniques of watercolor are incorporated within the paintings in the exhibit. Textures created using masking, salt, Japanese masa paper and saran are just a few of the methods used to create the medium's magic. The subject matter of the paintings is as variable as predicting the flow of the paint. There are seabirds and waterscapes of the Lowcountry as well as figures and animals to delight the viewer. Michael traveled to China this past year on a painting trip. Some of the things she learned there are included in a colorful and spontaneous floral piece. There will also be some of the Michael is
noted for. This exhibit will also feature touching paintings of figures and epicurean delights.
Michael quotes the famous watercolorist Rex Brandt when she says, "After 1000 watercolors you will fall in love with paper and paint." In her case it is more than double that and she considers watercolor painting a lifetime pursuit of discovery.
"For the Love of Watercolor – the Art of Michael Pearson" runs from June 27 through August 27, 2016 at Beaufort Art Association Gallery, 913 Bay Street, Downtown Beaufort. An opening reception will be held to coordinate with Beaufort First Fridays, on July 1 from 5:30 – 7:30 pm. The public is invited to attend. For more information: www.beaufortartassociation.com