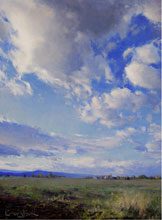 Students of all levels create 3 landscapes in 3 days.
Landscape artist and guest instructor TJ Cunningham will be teaching "Landscape with a Limited Palette" for three days, February 17-19, at Art League of Hilton Head. Instruction will center on creating compelling landscapes with just the three primary colors (red, yellow and blue) plus white. "With fewer color choices comes greater creativity, allowing the student to focus more on composition and abstraction," says Cunningham. "The limitation is also a great framework for learning how to mix color."
Students will learn how to simplify the landscape expressively. Attention will be paid to paint quality, value patterns, and abstraction as valuable tools to master in landscape painting. The classes will held in the studio, allowing time for a more thoughtful approach than plein air painting. Each day will begin with a presentation of Cunningham's working process, and each day students will be painting a different landscape motif: a distant mountains scene, a tree, and architecture in the landscape.
Cunningham is a Vermont native greatly inspired by the small farms, wooded hills and shallow streams of his home state. His body of work is comprised primarily of landscapes that are spare, selective in detail and limited in color. "The restraint TJ shows in his own work is what makes him such a great teacher on the subject of a limited palette," says Amy Wehrman, Academy Manager. Cunningham was named one of America's best emerging artists in Southwest Art's annual "21 Under 31" list. His awards include "Best Overall Oil" by PleinAir Salon and "First Place Landscape" and "Honorable Mention" by The Portrait Society of America. 
The workshop will be held Monday through Wednesday, February 17-19, 10am-5pm each day. The cost is $350; $315 for members. Students may supply their own photo references or choose from the instructor's. All levels are welcome. 
Art League Academy is located south-island at 106 Cordillo Parkway, Hilton Head Island, 843.842.5738.