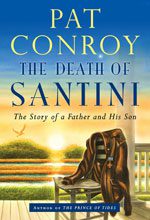 Conroy classmate, novelist Stephanie Austin Edwards, to lead 
The Pat Conroy Literary Center Book Club has been reading and discussing all twelve of Conroy's memoirs and novels in order of publication. Led by a guest discussion leader, these monthly gatherings are free and open to the public.
            The eleventh Conroy Center Book Club meeting will be held on Tuesday, February 11, at the Technical College of the Lowcountry's MacLean Hall auditorium (104 Reynolds St., Bldg 12, Beaufort), 5:30 p.m. to 7:00 p.m. This event will feature a screening of the video recording of the Conroy Family Panel Discussion from the Pat Conroy at 70 Festival (October 2015) with Pat Conroy; Pat's siblings Mike, Kathy, Jim, and Tim; Pat's daughter Melissa; Pat's wife Cassandra King Conroy; and moderator Walter Edgar. Following the video presentation, our book club discussion of The Death of Santiniwill be facilitated by Stephanie Austin Edwards, a Beaufort High School classmate of Pat's, now an award-winning novelist and a frequent workshop instructor for the Conroy Center. This event is free and open to the public; no registration is required.
About The Death of Santini
Pat Conroy's great success as a writer has always been intimately linked with his family life. While the publication of The Great Santinibrought Pat much attention, the public rift it caused with his father generated more attention still. Their long-simmering conflict burst into the open, fracturing an already battered family even further. But as Pat tenderly chronicles here, even the oldest of wounds can heal. In the final years of his life, Don Conroy and his son reached a rapprochement of sorts. Quite unexpectedly, the Santini who had freely doled out backhanded slaps targeted his ire on those who had turned on Pat over the years. He defended his son's honor.
The Death of Santiniis a heart-wrenching account of personal and family struggle, and a poignant lesson in how ties of blood can both strangle and offer succor. It is an act of reckoning, an exorcism of demons, but one whose ultimate conclusion is that love can soften even the meanest of men, giving meaning to one of the most often quoted lines from his bestselling novel. The Prince of Tides:"In families there are no crimes that cannot be forgiven."
About Stephanie Austin Edwards
Before Stephanie Austin Edwards returned to the Lowcountry of South Carolina, and to her love of writing, she had a twenty-two-year career in New York theater, film, and television with such talents as Liza Minnelli, Michael Jackson, Lauren Bacall, Woody Allen, Martin Scorsese, Hal Prince, Stephen Sondheim, Bill Cosby, and Michael Bennett. Stephanie now writes fiction and non-fiction, facilitates writers groups, teaches writing workshops, and consults with authors. Her debut novel, What We Set in Motion, won a Best Submission Award at the Atlanta Writer's Club Conference. She is also a contributing writer to Our Prince of Scribes, an award-winning anthology about her high school friend and classmate, Pat Conroy, and a contributing writer to Short Story America VI. At the Pat Conroy Literary Center, Stephanie volunteers, leads writing workshops, and co-chairs the twice-monthly meetings of the Lowcountry Writers Group, a chapter of the South Carolina Writers Association. She lives and writes in nearby Port Royal.
The nonprofit Pat Conroy Literary Center is South Carolina's first affiliate of the American Writers Museum, second American Library Association Literary Landmark, and TripAdvisor's top-ranked attraction in Beaufort. The Conroy Center preserves and continues the literary legacy of Pat Conroy (1945–2016) as a teacher, mentor, advocate, and friend to readers and writers alike. The Conroy Center is located at 905 Port Republic Street in downtown Beaufort, open to the public from noon to 4:00 p.m. Thursdays through Sundays. To learn more, please visit www.patconroyliterarycenter.org.