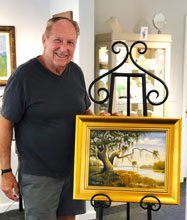 To say Terry Brennan is a well-known local artist is an understatement. 
He has been an exhibiting artist at The Society of Bluffton Artists (SoBA) for 22 years. His oil and watercolor paintings have been displayed in art galleries in Bluffton, Beaufort, Charleston and Hilton head Island. Additionally, he has served on the board of directors and as president for the Art League of Hilton Head Island and SoBA.
Brennan will exhibit his seventh art show, "Low Country Palette," October 6-November 3, at the SoBA Gallery, located at 6 Church Street in Old Town Bluffton. Come meet the artist during an opening reception from 3-5 p.m. Sunday, Oct. 13 at the gallery. Brennan also will give a demonstration of a Lowcountry oil painting from 10 a.m. to 1 p.m. Friday, Oct. 18 at the gallery. These events are free and open to the public.
Brennan's October exhibit will feature his favorite subject matter — more than 18 exquisite Lowcountry scenes.
"Capturing the vibrant and ever-changing colors of the marsh and sky is a constant challenge,
but one I welcome," Brennan said. "With each weathered building, landscape and seascape, I strive to achieve a realistic and inspirational image, an image that evokes the emotions and mood of that singular moment in time."
The self-taught artist is a registered professional engineer with a bachelor's degree in civil engineering and a master's in business administration. His love for art, however, is evident throughout his collection of Lowcountry paintings. For more information, visit www.terrybartist.com.
The Society of Bluffton Artists (SoBA) is a non-profit organization established to promote a stimulating community environment for the visual arts and to assist area students and artists in enhancing their artistic abilities.  SoBA is the heart of the flourishing art hub in Old Town Bluffton, located at the corner of Church and Calhoun streets. SoBA offers regular art classes, featured artist shows, exhibitions, outreach art programs, scholarships and more. For more information, visit sobagallery.com for a complete calendar of events or call 843-757-6586.