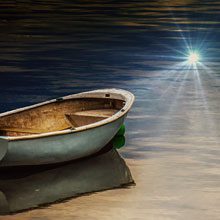 National Association of Women Artists and the Pat Conroy Literary Festival partner on exhibit
The National Association of Women Artists In conjunction with the Pat Conroy Literary Center present a thought provoking new exhibit "Inspirational Journey: Small Chapters"at the Coastal Discovery Museum on Honey Horn Drive in Hilton Head, October 14, 2020 – November 30, 2020.  
NAWA's South Carolina Chapter members, share their inspiration from Pat Conroy's remarkable life and memorable characters with their own inspirational journeys as painters, photographers, and multi-media artists. Each work juried into the exhibition is a "small chapter" of expression, representing that which has motivated each artist to create these 12" x 12" visual narratives.  
The work of seventeen artists were selected for "Inspirational Journey: Small Chapters."  They are Joanna
Biondolillo, Sandy Dimke, Joan Eckhardt, Fran Gardner, Karen Gottschall, Susan Hammond, Susan Irish, Mary Jean Jaishiama Jacobs, Debra Kelly, Kate Kennedy, Juliana Kim, Gale Ray, Karen Renshaw, Penny Seldin, Mary Steffen, Marianne Stillwagon and Melinda Welker.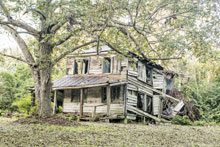 Jonathan Haupt, Director of the Pat Conroy Literary Center, presented the awards during a virtual Zoom reception on Friday, September 23 at 3pm. The center will celebrate their 5thannual Pat Conroy Literary Festival the weekend of November 5-8 with a multitude of virtual presentations, workshops and discussions that the audience can live stream.  
First Place was "Alpha-Beta" by Fran Gardner; Second Place was "Rustic Mansion" by Joanna Biondolillo,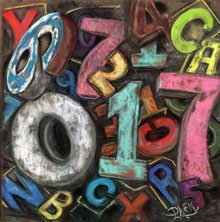 3rdPlace was "The Blackboard" by Debra Kelly and two honorable mentions, to Juliana Kim for "Rhythm" and Sandy Dimke for "Morning on the Bay." 
NAWA's South Carolina Chapter, an elite group of 50 artists representing all mediums, is part of the larger 800-member National Association of Women Artists founded in 1889. NAWA remains committed to sharing the work of women artists and to highlight their significant contributions to the world.   
Running consecutively with the exhibit at Coastal Discovery Museum, The Venue Art Hotel in Charleston is hosting "Inspirational Journey" with larger artwork inspired by Mr. Conroy's work.  Twenty-eight east coast artists are represented in this exhibit from October 15 – November 30. 
For additional information on this exhibit, please see refer to the NAWASC.org website or contact coordinator Sandy Dimke (sandydimke@gmail.com).  
Pictured above, from top left:
"Morning on the River" by Sandy Dimke
"Alpha-Beta" by Fran Gardner
"Rustic Mansion" by Joanna Biondolillo
"The Blackboard" by Debra Kelly
"Rhythm" by Juliana Kim