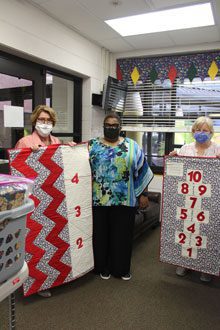 The Dataw Island Quilters are a group of 24 women who have a passion for quilting and a desire to share their interest with others. Some members have been quilting for 50 years while others are new to this fabric art, but one thing they all have in common is a desire to share their talents.
This year, the Dataw Island Quilters community service project was a considerable feat — making 80 quilts for all the three-year-old children at the St. Helena Island Early Learning Center. The quilts were hung along the fences of the Sams Family Ruins on Dataw Island for an open-air exhibit earlier this year, and this week the club had the honor of delivering the works of art to the school. The children receive one of these hand-made quilts at the beginning of their schooling to use for the years they remain in the program and is theirs to keep when they graduate to kindergarten at age 5. The child's names are placed on the quilt label, and staff wash the quilts regularly so that they are clean and ready for daily naptimes. 
Quilter Susan Jorgensen says, "Children need to know that people care about them, love them, want to see them smile. The quilt that each child receives, their very own quilt, "says" that to them — we care about you."
These gorgeous quilts for the little ones at the center took hundreds of hours (maybe thousands combined), more than $1000 in material, and countless amounts of love and creativity.
The St. Helena Early Learning Center serves St. Helena Island children by providing a learning environment that enhances the academic, cultural, physical, social, emotional, cognitive, linguistic and creative development of children. The program's goal is to build a strong foundation for each child to build upon, leading to a lifetime of educational and personal growth and success. 
"A stimulating daycare program is so important to a young mind's development, and we want to help accomplish that," Jorgensen said. "State law mandates that each child must have a blanket for naptime, and we love the opportunity to provide this. This is a very worthwhile and much needed project," says Jorgensen. "We have fun on these workdays being creative and helping each other, all for a positive end!"
Photo 1: Left to right – Susan Jorgensen, Tanzala Shanklin, Linda Robinson