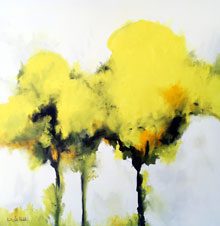 The Society of Bluffton Artists Gallery welcomes N. Jack Huddle as the featured artist now through December 5. "An Exhibit of Contemporary Art" presents colorful abstractions of common themes with dominant colors in each, intentionally used to set the mood of the viewer.
They create an immediate criteria for an emotional response. His paintings are an explosion of color, highlighting his signature style of exciting abstract impressions.  
Huddle is a Renaissance man with an artistic background between a distinguished career as an architect and his study of painting and glass blowing. An Ohio native, he was raised during the Great Depression and early on learned skills for creative projects, designing and building most everything from scraps of discarded materials. He developed a passion for creativity, which became the foundation for his professional career. Following a BA from Western Reserve University, he pursued additional formal studies in architecture and the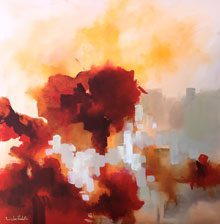 arts at the Ecole des Beaux Arts in France, Columbus College of Art and Design, Ohio State University, and the Savannah College of Art and Design. It was during his architecture career he studied glass blowing and developed unique techniques to construct sculptured objects and vessels from molten glass. After retiring and moving to Hilton Head in 1999, he began to apply the principles of architecture and glass blowing to his newfound passion for painting. Since then his work has delighted viewers and collectors with its vibrant hues and style.   
Please join us to meet N. Jack Huddle, enjoy "An Exhibit of Contemporary Art" and the work of over 100 other member artists, at an opening reception with refreshments, Sunday, November 8 from 3-5 pm.
The SOBA gallery is open from 10 until 5 pm Monday – Saturday and Sunday from 11:30 am – 3 pm, and is located at the corner of Church and Calhoun Streets in Bluffton.
For more information visit www.sobagallery.com or call 843-757-6586.