The Art League of Hilton Head presents Fabulous Fakes in the Arts Center of Coastal Carolina's portico on Saturday, September 29, 10AM – 4PM, co-chaired by Rosemary Kimball and Juliann Foster. Member artists recreate famous museum masterpieces with a personal – often humorous – twist to make the work contemporary and unique. The event is free and all art is for sale.
The public is invited to come early for this one-day event in order to have their choice of favorite pieces. Previous year's selections have included works after Homer, Sargent, Whistler, Monet, or Manet, Cezanne or Vermeer – all artists of great appeal.
Twenty-three member artists are participating and are allowed to bring up to three original works of art. Joyce and Don Nagel, both long-time member artists and teachers at the Art League of Hilton Head's Art Academy, are joining in on the fun.   Joyce is showcasing, ala Klimt, "Portrait of Fritza Reidler" 1906 and Don, ala Renoir, "After The Bath" 1888.
The Art League will have historian scrapbooks from the Art League's early years on display inside the gallery.   Visitors are encouraged to vote for a "people's choice award." A ballot box will be provided inside the gallery.
Some artists will be on hand throughout the day to talk about and answer questions about their paintings.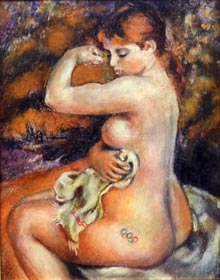 A special tribute at 1:00 p.m. will take place, with Walter Greer presenting, recognizing long-time past member Nancy Wittke (1930-2009), who was the creator of Fabulous Fakes. A few other long-time members of the Art League will also be recognized. There will be a display of some of Nancy's art, one of her "fakes," and a gown that Nancy made and then painted with the art of Marc Chagall. The dress will be on display next week on a mannequin outside the gallery to create some interest.
At 3:00 p.m., the Arts Center of Coastal Carolina will have a group of performers give a "sampling of their 2012-13 Season" on the portico.
Refreshments, lemonade and cookies will be provided, sponsored by Harris Teeter. A French Montmartre atmosphere will lend to the mood, with some artists "in costume," as well as a Klimt model (Joanna Yarbrough) to arrive at 12:30 p.m. to see the portrait that Joyce Nagel is creating!
This is an event not to be missed and all are invited!
The Art League of Hilton Head is a 501(3)C non-profit organization representing the visual arts in the low country.
Mission Statement: The Art League of Hilton Head promotes and supports the visual arts through education, exhibitions, and partnerships for the cultural enrichment of the community and its visitors.