The Beaufort Art Association Gallery is pleased to announce a two-person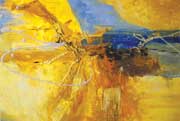 exhibit of artists Gay Torrey and Camille Perrin, opening at the Gallery on Tuesday, June 24, showcasing Camille's recent works in fused glass, and Gay Torrey's recent paintings and collages. Gay knew she had inherited her grandfather's artistic ability at an early age. She started art lessons when her husband was stationed in Cherry Point, N.C. She arrived several years later in Beaufort where she joined and became an active member of the Beaufort Art Association. Several years later she attended classes in drawing and jewelry making at Prince Georges Community College in Maryland.
She then moved to Long Island, N.Y. where she belonged to the Tri-County Artists Association. There she found time to take additional workshops with Marion Brown AWS and Liz Gibson with whom she explored the use of acrylics.
Her paintings have been exhibited from New York to Florida. She won her first prize in Cherry Point for a pastel portrait. She is happy to be back in Beaufort and paints regularly in her studio at 50 Scipio Road. She can be reached at 843-986-9255. Gay says of her art: :All artists are creators. I conceive an idea and labor (happily) until there is a representation of my initial thought. Successful or not, my joy is in the creative process more than in the product of that process. I come to art with the blessings of instructors who dare to let me into their wonderful world of "how to." If I am lucky I am able to glean and refine my techniques in the hope that they will work. Having said that, what you see in my work is a total gift from the past in the present. I hope you will find something that holds your attention even for just a moment or two. That would make me very happy.
Camille Perrin has been a multi-media artist for over 35 years. Trained in silver smithing at an early age and after graduating from the Gemological Institute of America in Santa Monica, with credentials as a Certified Gemologist from the American Gem Society, she embarked on a career as a Certified Gemologist and jewelry designer. She has also completed course work in professional pearl and bead stringing and incorporates these stringing techniques into her current fused glass, textile and surface design work. She is a consultant to design and media firms on product and packaging design. Camille has shown and sold her work in galleries and museum stores as well as in art and craft fairs throughout south Florida for over 25 years.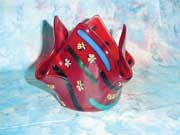 Camille graduated from the from the University of South Carolina with Dean's list honors and has since studied with award winning surface designers such as Marna Brauner (Kansas State University) and Yvonne Porcella (UCLA). Her textile designs and fabric sculptures were exhibited in June 2000 at a one-person show at the Palm Beach Community College Fine Arts Gallery. Camille's work includes fabrics and hand made paper and dyes, and she has also studied beading with Carol Wilcox Wells. Since first working with hot glass in 1989, Camille has been focused on learning various techniques and has had the opportunity to study with Brett Cole at the Appalachian School of Art and Craft and more recently has studied advanced fusing with Sheri Goldstein at the Armory Art Center in West Palm Beach, Florida. She and Sheri have become successful studio partners and show their work together in juried shows. Camille is very involved with the growth of the glass department at the Armory, was a featured artist for the Spring 2007 student show and serves on the Armory Programming Committee. With a love of bright colors, Camille uses the infinite characteristics and gem-like colors of hot glass for the creation of interesting color arrangements and patterns in functional glass pieces; such as glass bathroom sinks, elegant and whimsical jewelry as well as pieces that serve no purpose other than to be fun to look at. At present, she owns and operates Brightwater Farms Art & Design Studio and is the managing partner and lead designer for a plumbing contracting firm that offers innovative glass art for the bath.
The Beaufort Art Association Gallery is at 1001 Bay Street, in the historic Elliott House in downtown Beaufort. An opening reception for the artists will be held on Friday evening, June 27 from 5:30 to 7:30 pm. The exhibit will continue through Saturday, August 3. Gallery hours are 10 to 5 Monday through Saturday, and the works of over 80 Gallery members will also be on exhibit. Please call the Gallery office for more information.