You're invited to the Year One birthday party for ARTworks, the 12,000 square foot community arts center in Beaufort Town Center.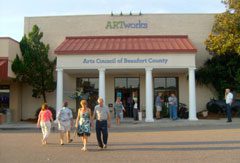 At this birthday bash on Friday, November 27th, 6:30 to 9pm, a whole year of the arts will be celebrated with live music, resident artists and their busy studios, an informal, colorful, and affordable, at $5, zine-making workshop with Bluffton artist Michele Roldan-Shaw ("learn the dirt-cheap, low-tech, old-school way to self-publish with zines") as well as fresh artisan breads from Irby Rentz. Admission is $5 or a toys-for-tots donation at the door (which benefits Beaufort County kids via Operation Holiday Hero.) The icing on the cake will be Carl T. Smith reading from his two new novels-in-progress, following his savory Lowcountry Boil, Louisiana Heat, and Nothin' to Lose.
"The titles of the two new works are An Unspeakable Violation and The Next Right Thing," explained Smith. "The second is a "working title" and may well be changed. Both books take place in "Covington, SC". An Unspeakable Violation is the third in the "Sam Larkin" series and is much darker than the others. Both are character-driven suspense novels though some may consider The Next Right Thing a thriller. This book introduces two new protagonists– both detectives with the Covington Sheriff's Department– Cole Sturtevant, a renegade law enforcement officer, and his partner, Carsyn Thoreau. Yes, she is a descendent of "Uncle Henry." While fighting crime, they struggle with a number of ethical differences." http://www.carltsmith.com
What's a year of art without a little crime fighting? Thank you Carl T. Smith and the thousands of other people who've helped make Year One @ ARTworks a success. So what has been achieved in the past year at ARTworks? The clean, well-lit gallery was filled with the entrancing artwork of emerging and established artists. Crowds attended openings. Shoppers and tourists wandered in and were amazed. Artists attended workshops in social media, publishing, and business plan development. Actors performed innovative drama in the black box theater. And in the offices of the Arts Council of Beaufort County inside of ARTworks, four cycles of community arts grants recipients were chosen, the Street Music on Paris Avenue series was implemented, the President's Circle series was organized (only twenty tickets available to each, this winter and spring!) and partnerships were formed and maintained with Mainstreet Beaufort, Beaufort Hospitality Association, and the City of Beaufort (hope everyone enjoyed the free lunchtime concerts in waterfront park: December 9 at noon, hear the incomparable Phil Griffin.) This list of Year One accomplishments is incomplete, though, not only in itemization, but in the voices of the people work there:
"Getting married at ARTworks was pretty exciting!" said Peggy Carvell, a metalsmith-resident artist at ARTworks. "But it was at the annual meeting this summer when it hit me how much behind the scenes work goes on here, to make this place happen. In the studio, I'm focusing on my work, so when I saw the slideshow at the meeting of what the arts council accomplishes, I got all choked up— and I said wow!"
"It's the afterschool program," said Jenny Rone, development director, when asked for her thoughts on Year One highlights. "Being able to involve these children in quality arts education and summer camp in a creative place, at an affordable price is amazing— and they're fabulous kids. They want to be here, making art, and they feed off of each other in the creative process. It's a great experience."
Hank D. Herring is also a resident artist: "Aside from connectivity with artists, and the growth of the arts community, my high point is my work with interns. I've gotten to work with some great, ready-to-learn young people. They're learning not only their artform but they're expanding, they're learning framing for artwork, and in the entire process, they are experiencing all the business aspects of art."
"You can't help but flourish where creativity abounds," commented Carol Kamm, visual and resident artist. "I went from working at home on an ironing board to working in a "real" studio in an incubation environment where I have been learning the business side of the art world."
"It's hard to believe we've been here only a year— people are taking ARTworks for granted already," said JW Rone, who serves as the executive director of the Arts Council of Beaufort County, advisor of all programming, director of the fabulous production of No Child, and font of much energy for all the synergy. "The amount of creative opportunity that we've made available to Beaufort County is overwhelming. It's been an amazing ride. But, now we're chomping at the bit to announce the new events and opportunities that we're planning. Everyday more people are coming through the front door, and our goal is to expand that reach into the community. Something for everyone is coming in year two of ARTworks."
To find out more about Year Two @ ARTworks, please stop in 11am to 6pm Tuesday through Friday and 11am-3pm on Saturdays, or at least visit the informative website and sign up for the e-newsletter! From its office in ARTworks in Beaufort Town Center, the Arts Council of Beaufort County promotes and nurtures the arts 365 a year, and works as an independent, non-profit service organization that is not a function of, or funded by, the Beaufort County government. http://www.beaufortcountyarts.com, 843-379-2787.
Can't make it to the birthday party?
Mardi Gras Beaufort "Weaving the Arts into Every Day Life"
A Fundraiser for the Arts Council of Beaufort County
Saturday, January 23, 2010, 7:00 to 11:00 pm
Dinner, Dancing, Silent Auction, Festive Attire, and Parade of Surprises!
Special Musical Entertainment
provided by Dwayne Dopsie & the Zydeco Hellraisers
Direct from New Orleans
@ the Officers Club, Marine Corps Air Station
Tickets: $60; $480 reserved tables of 8
(843) 379-2787